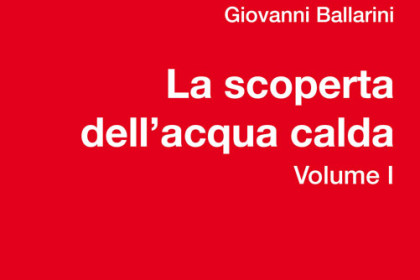 Fermoeditore proposes a new text by Prof. Giovanni Ballarini in e-book version. We asked him to tell us about it.
How did "The discovery of hot water" was born?
Today as never before we talk and write about food, cooking and gastronomy, topics that have invaded newspapers, television and computer media. Speaking of food has become a chatter, almost an obsession, which is perhaps an escape from other topics that are likely to have disappointed or became less exciting and welcome. A talk about food in which is your belly that is speaking, not your brain, and reveals a great deal of ignorance about the anthropological values of food, kitchen, gastronomy, in short, of human eating. Cultural ignorance that lies at the root of the increasingly widespread uncertainty and food fears that pervade our society. About food and human nutrition have been interested in and deal with it biologists, archaeologists, historians, economists, doctors, psychologists and many others, but poorly and recently anthropologists: food anthropology is in-fact a very young discipline, from which comes my research in two volumes The Discovery Of Hot Water. We must start from the beginning of the kitchen to understand the present and build the human future of food.
Your writing is part of a larger project… you can tell us about it?
Anthropology is the bolder human science, in particular when dealing with alimentation in all its aspects, especially the current ones, when we are experiencing what has been called the "kitchens storm" following the death of the modern bourgeois kitchen and must face the new challenges of globalization, not so much about food, but about eating habits. On this line I'm ap-lavishing the new meanings that food is taking in the various components of today's Italian population and that is also manifested in new food styles, often transformed and guided by food ideologies. What we eat today is building the food of tomorrow.
To who is addressed this book? The reader will learn many new things?
The book is aimed at anyone who wants to know himself and our society through the mirror of alimentation and to realize how important is alimentation not only to nourish the body, as to feed the soul or human psyche. At the same time it is a book to discover the wide variety of meanings of our diet, largely unknown if not forgotten with the loss of traditions.
La scoperta dell'acqua calda: read some pages