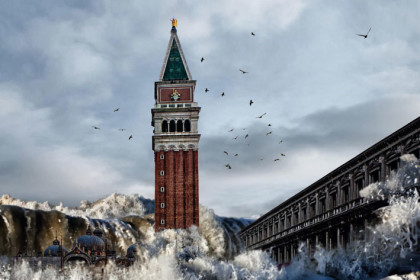 "Paper late!" cried a voice in the crowd".
It happened on 22.10.2012! Not just yesterday, but even in a time so remote as to make the information superfluous.
It really happened. It has been released the sequel of Genesis Revisited published in 1996.
It is called, imagine, Genesis Revisited II (after all what else should had been the name?) certainly the astute reader would have immediately understood that we are talking about Steve Hackett's new album.
Well, I must be honest and admit that the first volume had baffled several Genesis-maniac (neologism I just created, which describes the disturbing transnational and trans-generational, indomitable and invincible legion of Peter Gabriel's Genesis fans, whom I am honored to be part). There were too many personalities in the new releases and then some songs were really by Genesis? Dunno… maybe it should have been better to leave them into the oblivion in which they were fallen not without a reason.
But coming to the point. The new album, that is II, is more beautiful. The songs are almost all super classics, performed very faithful to the original Pliocene. And that's where the Genesis-maniac enjoys enjoys enjoys! Nobody gives a damn to hear interpretations generated by new sensibilities. Nor would appreciate injections (perhaps I should say suppositories) of new sounds. No less than ever improvisations. Genesis songs should be replayed as much as possible similar to how they played them on the album. That is what Genesis were already doing live "in those days".
Let me explain. If someone had the idea to re-print Genesis albums even on vinyl discs re-handling just a little bit the mixing, they would back to sell again a lot of copies… oops… someone is telling me that they already did it a few years ago! In fact, apart from jokes, I bought back for the umpteenth time.
Let's go back to Steve's disk. It's a double CD and a quadruple album, and contains beautiful surreal pictures in Hipgnosis by Angela and Maurizio Vicedomini style, already co-authors of a book of photographs inspired by Genesis songs entitled In Our Flight of Fancy. Just take a look at their website www.iconphoto.ch and you will see many beautiful images, including all those of Genesis Revisited II. To the making of the album, which contains masterpieces like Supper's Ready and The Musical Box, contribute thirty high level musicians, among whom I would like to highlight John Wetton, the former King Crimson. What else? Break the piggy bank and rush to buy it (if ever in your town there is still a record store)!
And there is more. In April, one year after the tour for the fortieth anniversary of Genesis in Italy, about which I talked  with enthusiasm and moved passion always on Fermomag, Hackett will return with the same formidable band to which will be added Nad Sylvan. It will be an all Genesis, with projections of images and movies.
The Italian tour will start on 23rd in Milan and will be concluded on 27th in Bologna, after reaching Vicenza on 24th and Rome on 26th. Tickets will be available in the usual pre-sales, and they are running out very quickly. Ah… since I am on the subject, I remind you that on 7th October in Milan there will be Peter Gabriel.