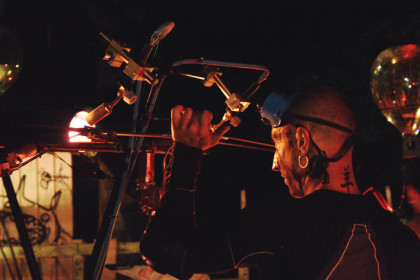 On the top hat a fake butterfly flutters. A guy who fumbles around for steampunk gadgets wears it unlikely to achieve useless/incomprehensible/nonsensical results. In no order, we have: a compressed air horn, a skeleton spider playing a toy drum, a bubble machine, a smoke gun. He wanders, activating surreal-poetic experiments generating a fascinated and bewildered spectator; the only solution is to let you go and while the soul follows notes roaming between ambient, electronic, prog. And indefinable more.
As stated on the website www.tana-creatures.it, Daniele Napoli – aka Tana – "since the mid-nineties he developed a passion for the recycling of objects as disparate as blenders, broken vacuum cleaners, motors, metal sheet, plastic and so on become materials to build propelled sculptures of Anthropomorphic robot", building objects-creature inspired by human and animal forms with which he interacts, turned into performer by the evolution of his own research.
Tana's Creatures – Underground Recycle Art – in time organized themselves into a kind of theater directed by their demiurge: under his command they wiggle, play, dance, in a creative celebration satisfied in itself. The theater then grew: by collaborating with musicians, film makers, street artists, circus performers, performers, Tana has carried out projects becoming more complex as different languages interact in complex projects.
Another element of the performances of Daniel-Tana is the pirophony, technique where the fire – ancient and powerful – becomes sound engine: the water becomes steam meeting the red-hot iron, heat rises, everything vibrates "like the voice of the earth. "The pirophones are mechanical music machines designed in Marseille, rebuilt and improved in Milan by TanaCreatures and Piccolo Circo Volante (Small Flying Circus – or Federico Bassi and Daniele Napoli). They are "organs that vibrate an iron body through the heat of fire, producing a low-pitched and long sound, modulated by a system of electric motors". Made with only industrial waste materials, are the main tools used in the performance Pirofonia, born from the encounter between TanaCreatures, Little Flying Circus, the musicians Luca Valisi (bass and loop station) and Alessio de Meo (mixer and effects). Slightly different Mechanics For Dreamers group formation: Daniele Napoli "Tana" Luca Valisi, Roberto Latino "Lucky".
No description does justice to a show that combines performance art and installation, a "melting pot of steampunk sounds and visions made reality" to taste in video but to enjoy live.
Video and pictures: myspace.com/pirofonia
To keep up with show dates: facebook.com/MechanicsForDreamers