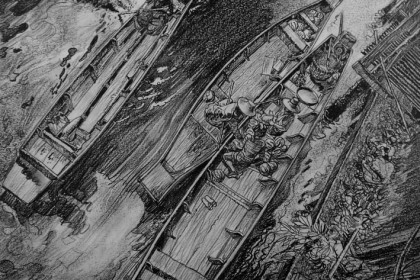 "Paper and pen" is a combination that, in its most introspective form, suggests the idea of great intimacy. Moments in which you are at the presence of yourselves immersed in writing or drawing. Some argue that drawing is for a selected few, but it is not true. Drawing is like writing. It needs practice. Once you learn basics, the rest is exercise. Improve handwriting, learn grammar and syntax, discover the charm of poetry, for example, are aspects that affect both disciplines.
Emilio Uberti has learned as a child. During his studies at the Art School of the Castello di Milano, Augusto Pedrazza introduces him to comics and, at not yet eighteen years old, he began his career on n. 22 of La Vispa Teresa of June 2nd, 1951, with the publication of his first illustration. In the fifties and sixties he collaborates with Dardo, Pini Segna, Bonelli. Talented cover artist and illustrator, created numerous covers of Capitan Miki and Il Grande Blek. He signs numerous Albi of Intrepido and some episodes of secret agents Il Boia and Jaguar. Until, discovered the camera, he leaves the work as an illustrator to devote himself to filmmaking.
With Leonello Martini he made La Testa nella Sabbia (​​The head in the sand), a film that won several prizes and several awards. He worked for Gamma Film and Bozzetto Film in the years of Carousel. Director of many commercials and videoclips of great Italian artists, he has directed some television programs. Since the early nineties he built many services for Nonsolomoda by Fabrizio Pasquiero… and begins to travel. He visited countries like Thailand, Costa Rica, Egypt, Brazil, Jordan, Mexico, Greece, Turkey, Ireland and the United States.
Emilio, on his return from his travels, started drawing again. A baggage of memories translated into images carefully paged. One hundred and forty illustrations made in pencil with a sudden strongly suggestive anti-academic stroke. A series of tables that stop time on faces and architectures fixing stories of men and remote places scattered around the world, still and silent governed by an elegant and intense chiaroscuro.
A few days ago, in front of a hot cappuccino, I spoke with Emilio of the shots of his works observing "the influence of the camera lens". He replied smiling, "this is not like that: the choice of frame and sensitivity of the viewpoint is by design. Knowing how to draw helped me a lot in the choice of lights, framing and photography of all my movies."
The works of this article are pencil on paper. The full set of 140 images size 39.5 x30 has been exhibited in Reggio Emilia, Liguria, the cartoon museum in Milan.