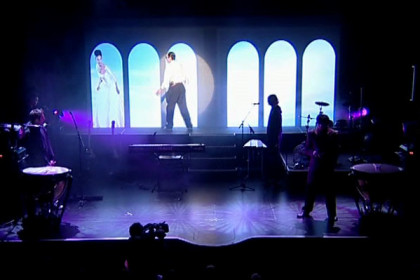 At the time of Peter Gabriel's Genesis, there was so much good music. Really a lot. Limiting ourselves to the UK alone, in addition to progressive, which later became classic like Genesis, King Crimson, Van Der Graaf Generator and playing away, there were other genres worthy of great attention, such as the so-called "Canterbury school" by Soft Machine and Caravan or glam rock invented by Marc Bolan and perfected by David Bowie.
The mistreated disc which makes me want to break a spear is generally compared to English glam. And indeed this is correct despite two contradictions or paradoxes:
1 The Sparks were American, more precisely from California
2  Indiscreet belongs to the musical area which, when forcing a little bit, could be called "total music", as in its eclecticism is more like prog and Canterburian dada added to formulas ad open solutions, as in many works by Todd Rundgren (their first discoverer and producer) and Frank Zappa, who are very talented people, but are also very American.
Indescreet of 1975 follows closely the two extraordinary best sellers both released in 1974 by Island Records, Kimono My House and Propaganda, which transformed the Californian band into a paraglam English dandy group, who succeeded also in business to break out from poverty. The brothers Ron (keyboards) and Russell (vocals) Mael, composers and with true Sparks hearts, once achieved success with an original musical formula, smart and funny like few others, decided to create their masterpiece, the Sparksian sound.
They cut down the few limitations that until then had been imposed mixed hard rock, vaudeville, operetta, Weimar cabaret, Broadway melodies, Tin Pan Alley sound, Shirley Temple style, military bands, 40's choir, folk, hillbilly, etc., in a unique and heady way, which enabled them to deliver a wonderful 33 laps to the press.
But being a notoriously sad and foregone program, neither the critics nor the public liked the work very much and there were signs of the start of a very slow decline of a band which fortunately is still active.  A musical entity that anticipated the new wave and the latest techno pop, and one of the most respected ones, cited by many musicians.
Indiscreet for their variety of colours and and moods, the most memorable is Sgt Pepper more than Ziggy Stardust or For your pleasure.wper varietà di colori e climi ricorda più Sgt Pepper che Ziggy Stardust o For your pleasure.  It is worth remembering that Bryan Ferry openly detested Sparks, while the Mael brothers always pretended they had never heard of Roxy Music, with their typical humour always present in the lyrics and iconography.<0} Take a look at the cover of Indescreet from the point of view of Ron, always with a moustache and greasy hair, which exactly embodies the cliché of Anglo-Saxons, as the Italian immigrants see them.
Sparks, Indiscreet. Simply fantastic.