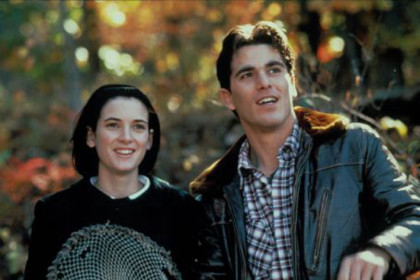 SIRENE (Mermaids) di Richard Benjamin; con Cher, Winona Ryder, Bob Hoskins, Christina Ricci
USA 1990
Richard Benjamin will be remembered more for his work as actor and director  .  He will probably go down in history for participation in the film  Catch 22  directed by Mike Nichols in 1970, a film that many people will remember also because of the interpretation of Art Garfunkel (the same thing will happen for  Carnal Knowledge, also by Nichols). After acting in a dozen other films, amongst which should be mentioned The World of Robots by Michael Crichton with Yul Brynner and  The Sunshine Boys by Herbert Ross with Walter Matthau, in 1982 Benjamin drew the lot of director.
 With his first films he achieves critical success and audiences of average stature, then came the winning shot in 1990 with a big production and an All-Star cast , hiring two actresses, Cher and Winona Ryder at the height of their fame and actor, Bob Hoskins, whose popularity had dramatically exploded a few years before with the lead role in Who Framed Roger Rabbit?   In the cast there is a young but already very promising Christina Ricci. In order to ensure a certain flow at the box office, the crowd-pulling elements already seem to be enough.
 In addition, a good story is given, in order to satisfy even the critics.  This Mermaids , a derailed and crazy novel, written in an original and inimitable way by Patty Dann, utilizes the lightness of comedy avoiding the frivolity and superficiality. Well, in the end of the project turns out to be quite successful, with a crackling and sometimes irresistibly hilarious screenplay by June Roberts. An intelligent and pleasant film, with a great rhythm. But the audiences and critics did not like it much and put the blame for lack of success on the head of the poor director. He is said to have wasted an opportunity and an amazing cast.
I do not agree. I always thought that the two superstars Cher and Ryder were never thos skilled masters they were trumpeted as. The Oscar Cher won, as everyone knows, does not mean anything. While Ryder is the classic product from Actor's Studio already adequately crumpled by Nanni Moretti in one of his first film (sorry, I cannot remember which one) in which he imitated American actors and their usual moves of the finger against the shoulder of ' interlocutor in moments of anger. Try to understand me, I'm just trying to say that sometimes the two actresses were not playing their part and you could not blame Benjamin for this.
Also I think Mermaids had another big problem. The public was probably not yet ready for an all-female film which was subtly irreverent and fun. The public still wants to see Thelma and Louise or Little Women, depending on your beliefs.