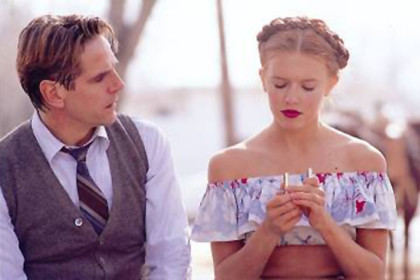 LOLITA, di Adrian Lyne; con Jeremy Irons, Melanie Griffith, Dominique Swain
USA – Francia 1997
Reading the reviews of the Lolita Lyne I always imagined the reactions of the audience, composed by various critics and experts on the screenings of this film festival and various premiere nights, very similar to those of the audience of Corrado's Corrida. By that I mean raspberries, choruses of "boooo" bells and whistles and the typical final siren. The criticisms were always so negative and heavy that they got me to refuse watching it for years. But then curiosity took over. So I have seen and deduced.
What I'm guessing? The devil is never as evil as he is depicted, and if you manage to handle Swain braces (that's very youth-like for simple souls), the irritating flou of David Hamilton (one of the worst photographers of little girls of all time) and the glossy postcard atmosphere in American old fashion style… if you can resist all that, you can safely enjoy a film version of Lolita by Vladimir Nabokov more faithful to the original than the much more personal and creative Stanley Kubrick (because Lyne in terms of creativity, can not give much).
The film is decent and lets see also Jeremy Irons and Melanie Griffith are good. And Dominique Swain is very pretty. So why so much hatred from critics and moviegoers?
I believe that this is due to two reasons.
The first is that Lolita by Lyne suffers from the comparison with that of Kubrick. And I think that this does not make any sense. How can you compare a Ferrari to a Panda? These are two different things. Dear critics, you have to be less prejudiced and change you parameters. In fact, this movie by Lyne, is not bad for being a Lyne movie. I mean, have you ever seen his other movies? And it stands as an honest artisan product without intellectual pretensions.
The second reason is linked to the above. A director who comes to worldwide fame with a piece of crap like 9 ½ Weeks must be stopped somehow so they won't be too harmful. From here the crusade anti Lyne.
Let's recap. When compared to the films of Kubrick (with Peter Sellers, James Mason, Shelley Winters), it has no reason for existing. Compared instead to 9 ½ Weeks (with Mikey Rourke smile from paralysis type planted in the face all the time), it has value and dignity. As a touchstone 9 ½ Weeks can also give dignity to the film by Alvaro Vitali (which, however, it must be said, do not laugh at Rourke grappling with Kim Basinger next to the fridge).
But I was going off topic. Back to Lolita. My advice is: read the novel by Nabokov, then look at Kubrick's film and then the one by Lyne. Alles ist gut.