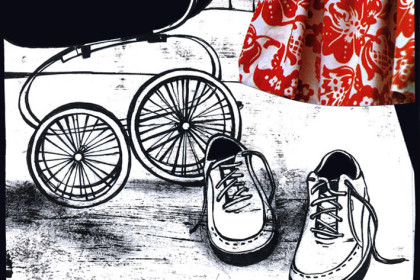 A woman asked me if I could look after her child for a second: she wanted to go to the store in front of which I found myself by pure chance, accessible only through a two meters long ramp.
I offered to help her taking the pram up.
Too much traffic, she said, waving her hand. It would have been easier if I just waited for her. While she was already going up, she added that it would take her only five minutes.  Perhaps nobody would have helped her bringing the pram back, so I thought it would be okay to watch it for her.
The child was submerged in a thick duvet. Just by looking at the bottom, in the pram, I managed to find his bounded up head, laying on its side. He was quiet, probably sleeping.
I did not know the child's mother, even if we probably lived in the same neighborhood because I had seen her around often. But we had never said a word. It looked like having seen me around was enough for her to trust me to the point of leaving her son with me.
It was getting dark and on that road the street lights came on. It was a warm evening, an unusual heat had squeezed in, in the middle of winter. The coats were too thick, scarves too, and sweat would soak tops and shirts, which would stick to your skin In this muddy heat, the boy must have been suffering under such a thick duvet. I did not dare checking.
I waited fifteen minutes and then I finally saw her coming out of the store with a bag full of stuff. As she arrived I was ready to leave, but as soon as I turned around she said that she would still need my help. "It will not last long," she assured me while walking away, leaving the pram with me. I followed her, pushing the pram, wondering what was the reason that made her walk so fast. I called her several times while trying to keep up, but she kept running towards a place I had yet to discover.
She stopped only when we arrived at the front door of the house. The elevator was out of service, she said, she had to take everything to the second floor. She was sure I would have helped her, she would have never made it by herself, after all. I grabbed one side of the pram, she grabbed it from the opposite side and we carried it up the stairs. From a small window on the first floor I saw that it had just started raining. From a distance, barely audible, thunder broke free from full sky.
"Will you not come and have a coffee?" She asked after opening the door. She pushed the pram in and pulled me by the arm. She immediately locked the door turning the key. She unbuttoned her coat and hung it on the hanger, along with her scarf. She turned and looked at me as she stretched out her arm, waiting for me to take my jacket off and give it to her. When I gave it to her, she noticed that the lining was all wet from sweat. She put her hand inside and rolled up the sleeves so that they could dry. She then hung it next to hers.
To be continued
www.fermoeditore.it