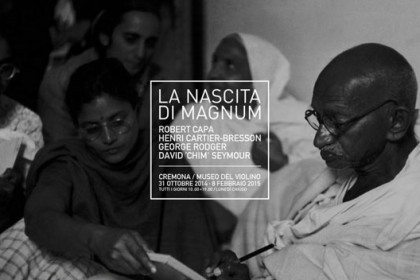 It is May 22nd, 1947: in the restaurant of the MoMA in New York Robert Capa, David Seymour "Chim", Henri Cartier-Bresson and George Rodger founded a photo agency that takes its name from a bottle of champagne. Magnum is born and begins a history of photojournalism and photography which marks the twentieth century and continues today with top-level professionals and with unforgettable shots.
In Cremona, an exhibition on the previous and the first report of the founders of the agency, highlighting not so much the individual photographs, but the genesis of a cooperative that has revolutionized the rules of the profession, focusing on the autonomy of the photographers, a new way of telling with images, an absolute respect for the shot – which can never be arbitrarily cut – attention for captions and, above all, the principle that the authors retain ownership of the negatives. To understand the scope of the initiative, considering that the years immediately preceding the end of the war are those in which the magazine "Life" upsets the criterion of the images, which from that moment become crucial in the other magazine.
The founders, as well as friends, had events divided and united by wars. The Spanish Civil War in 1936, that between China and Japan in 1938, World War II (the famous, and just, shots of the Normandy landings are of Capa, while Rodger is the first photographer to enter the concentration camp of Bergen-Belsen), the Indochina in 1954. And then the big story of the birth of the State of Israel with the reportage Robert Capa; India's independence and the funeral of Gandhi by Cartier-Bresson, who had the good fortune to meet the Mahatma just an hour before he was assassinated. Just in two different situations of war killed both Robert Capa – Indochina – both Chim – in Egypt.
The four photographers, with their different personality evident in the shots, divide areas of worldwide expertise in order to cover all the important events: that's how Rodger goes on a long journey to Africa where he came into contact with the life of Nuba community in Sudan while David Seymour Chim, on behalf of UNICEF, realizes a touching reportage on children orphaned by the war in Europe.
Brought for the first time all together, these intense series, as well as offering an insight into the start of the Magnum agency, which since then unites photographers under the banner of a "humanitarian" look and attention to people and their living conditions, encourage reflection on the role of photojournalism in the world of global information.
The birth of Magnum. Robert Capa, Henri Cartier-Bresson, George Rodger, David Seymour Chim
By Marco Minuz
Museum of the violin, Cremona
Until 8th February 2015
Info: +390372808804