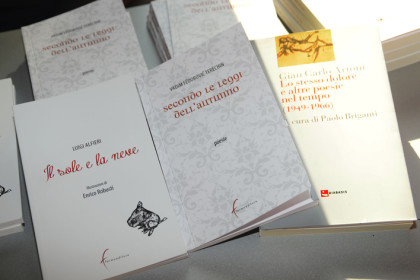 It takes courage to publish poetry today. But on Thursday, April 24th in Parma two publishers have shown that someone still has that courage. In the Borri Room of the Palazzo Giordani were presented two anthologies to the numerous audience: Lo stesso dolore e altre poesie nel tempo (1949-1966) [The same pain and other poems in time (1949-1966)], complete works of the talented parmesan poet Gian Carlo Artoni edited by Paolo Briganti (professor of Italian literature at the University of Parma) and published by Diabasis, and Secondo le leggi dell'autunno (According to Autumn laws), choice of verses of the Russian poet Vadim Fëdorovič Terëchin published by Fermoeditore as part of a cultural exchange that will see translated and published in Russia Sun and snow, work of fiction by Luigi Alfieri.
Artoni, exponent of the "Parmesan Workshop", and Vadim Terëchin, co-president of the Union of Writers of Russia with a prestigious curriculum, although geographically distant show some stylistic traits – such as the use of the quatrain and closed forms – and themes in common; in this regard Emilio Zucchi, poet and editor of the culture page of the Gazzetta di Parma who worked on the italian translation, commented: "I was fascinated by religious, non in confessional sense but properly Russian, so pantheistic and existential, afflatus of these lyrics"; the one by Terëchin is a poem "thrifty of metaphors not less than that of Artoni and it is fascinating to see how you can grope the ropes of the last questions by minimizing the level of similarity of figures. There is a message in Terëchin lyrical calm, chaste, a simple solemnity, like Tolstoy I would say".
The publisher Fermo Tanzi pointed out that through the publication of this poem confirms the vocation to the emotion of the publishing house "our made in Parma becomes soul and distant persons get closer through feelings". After several interventions moderated by Luigi Alfieri and reading some verses from the two volumes, the event ended with the presentation of a gratitude scroll to the two poets by the President of the Province Vincenzo Bernazzoli, who hosted the meeting, and excellent vodka gifted by Terëchin to the publisher.