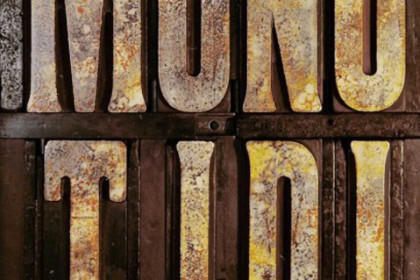 Bambolo – In case of browning is called like that the swab of cotton wool covered with fine linen and mounted on a wooden handle used in bookbinding to apply a uniform and light layer of almond oil on the scalp before applying the starched gold leaf.
Trim – The thin fringing present in the page margins typical of handmade paper and in untouched books.
Batter – Printer worker assigned to pour ink on printing forms, an operation that is carried out by soaking a leather tampon in the ink subsequently applied on the characters. The work of the batter took place in close contact and in sync with the pressman (the guy at the operation of the printing press) .
Biblioclasty – Strong dislike for books that can lead to desire to destroy them.
Blurb – Coined in America in 1907, this term refers to information about the book and author positioned in the jacket flaps or promotional text on the clamps applied externally.
Boccia – curve formed by the rounded part of a letter.
Paperback, binding in (or rustic) – From French "brochure", documented from 1718 and is derived from the verb "Brocher", bind (sheets of a book), in the early nineteenth century we find it among the Italian terms to indicate the binding of heavy paper. The paperback covers were typical of the printers of high quality (ie Bodoni): simple, stylish, buyers were provisional and assumed that they would have as a result of fine custom bindings, with the emergence of the publishing industry imposed themselves more and more cover printed in paperback .
Knight – Bookmark consisting of a small rectangular piece of paper, parchment, leather or fabric, glued to the outer edge of a paper and projecting on cut front of the book .
Blueprint – From the greek "kyanos" and the Latin "cyanus", blue: printing process that uses sensitive paper treated with potassium ferrocyanide and iron ammonium citrate. Developed in water, gives clear lines upon dark blue background. In typography are called blueprints proofs on which to affix the "approval for printing".
Cliché – A French term with which the array for illustrations (metal plate or mold) engraved according to various techniques but always with embossed image and upside down, which then mounted on a metal or wooden support was printed along with the character.
Colportage – French term used for itinerant sale of knick-knacks, books, pictures, leaflets, moon almanacs, popular activity from the sixteenth to the early twentieth century, favored the spread of popular publications and editions also prohibited. The salesman was said "colporteur" .