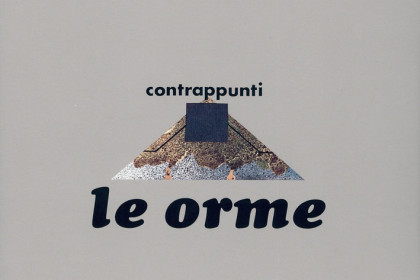 At the time of Peter Gabriel's Genesis, one of the most popular Italian rock bands were Le Orme.
After a couple of albums, more or less 'beat' and with a very '60s sound (Ad Gloriam and Aurora), Le Orme found their way to British pop and returned with the first real album of Italian progressive rock. It was 1971, and their album was called Collage.
It was a great job, with which the group from Mestre showed that you could combine British rock and brilliantly Italian melody.
In the boot-shaped village, the album was like a bomb. Due to the hit song look to the sky contained in 33 rpm, the complexes sprang up like mushrooms. I was lucky to have two drummers and a keyboardist among my older cousins. The following year, in 1972, Le Orme surpassed the previous success with Uomo di pezza. An album that had all it takes to break through: a beautiful cover of Mazzieri, great sound, and Gioco di bimba, inevitably destined to become an evergreen of Italian music. Not to mention the rest, from La porta chiusa to figure di cartone.
In 1973 Felona e Sorona came out which I find to be the worst record of Le orme in their progressive times: boring, pretentious and with a bad sound. It was the time of the grandiose concept.
For an error, then allowed by Charisma, it was translated by Hammill for the UK market. Inevitable flop. In Italy, however, it went well and it opened to a series of triumphant concerts with sets and lights in a nice Genesis style. Philips in early 1974 used the occasion by posting a terrible In concerto, which boasts two primates. Being the first live concert by an Italian group. And being the ugliest in the history of live Italian music. The outline was totally wrong and the sound reminded of fair grounds.
That was something to be worried about.
Finally at the end of 1974 Contrappunti was published. The three Orme in this occasion had become four after Reverberi joined. Contrappunti was an excellent example of progressive music. Furthermore, it ended up being also the most original disk. The bravest, too.
Not all songs were masterpieces, but there were good ones. From the opening track of the same name with vague memories of Rimsky-Korsakov to Frutto acerbo from la fabbricante d'angeli to Maggio. Aliante immediately became the theme song of a television broadcast. Despite this, the album had no real success.
Why? Do not ask me. I liked it.
For Le Orme there had been no progressive until 1996, with il fiume.