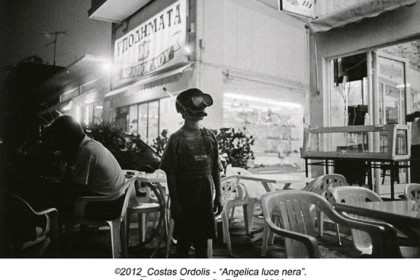 This year's edition of the recently concluded European Photography in Reggio Emilia has got me excited. Among the many proposed exhibits, other than those of the "great" ones such as Bialobrzeski and Vitali, (it's a fantastic opportunity to see them together … two of my most admired artists), the one that caught my attention was Costas Ordiolis, named Angelic Black Light. Greek photographer, Ordolis; I know that he's been photographing the greek theatre for about twenty years, restoring a dreamy and delighted image from them, which seems to originate from the subconscious. To use a Gerry Wingrand quote, it is easy to say that Costas Ordolis doesn't photograph the theatre to show what it is like, but "to see what the theater is like in the moment the picture is taken".
I have been to Greece, as a tourist, many times, until a couple of years ago; my memories of it are colourful, are of a place where everything is wrapped in the strong and crystalline light of the Mediterranean summer sun, and of a movingly beautiful and clear sea.
Now times have changed, now there is crisis.
The people have got more frustrated and disoriented, even the colours have changed, or rather, perception has been changed. Today, Greek "summer" images have been replaced by "cold and wintery" ones that the media suggests, pictures that represent today's sadness. "Greece's light has been darkened with some black: it is not the fault of the light, but of how we perceive it" – the artist writes.
This is how Ordolis pictures the Greek crisis, black and white, pitiless, where nothing is missing from a critical situation: protesters, politicians, soldiers, prison bars, shops closed and empty. But everything is sui generis. Nothing is represented in a direct way, everything is only mentionied or suggested, put sideways, filtered by glass or a net, reflexed, and the scene is many layers overlapping
Then comes an actual key unexpectedly, with a butterfly in the window of a house: the word "butterfly" in ancient Greek also means "soul", and that is the immediate reference to the symbolism of the butterfly: something angelic. Then comes the "black light", which in alchemy the darkness contains, and is referred to as "blackness" (here the reference is to the immediate photographic negative, the medium that captures light to later recreate it on the paper), which is considered the negative phase before rebirth or transformation.
In images that go beyond classic presentation, where everything is strong and very present, the drama is created by its effects on everyday life.