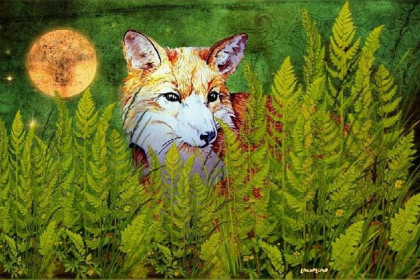 «My interest in art began at a very early age. As a small child I used to sit at a small wooden table and draw for hours. My father was an art teacher and master in sculpture and painting, so I learned about various art techniques, color, and design elements. I have practiced painting on several support like canvas, glass, ceramic and fabric and I have produced art in the style of figurative realism for years at an art shop. My work include several commitions, illustrations and paintings in private collection and critical work on art for many smaller publisher.
I also featured characters for RPG like "St. Toad" from the pantheon of Lovecraftian myths that is used by the site of RPG fans Iho's Chronicle My use of color evolved over time with habits that I have to mixed different techniques, until I developed the vivid coloring technique that currently I use for my painting. I draw my subject in different fields to children's literature or mythology. I don't have much interest in painting real things, so it would be something based in the imaginary. I mean imagination in a "hillmanian" way.
J. Hillman was a theorist of "soul making" and wanted the image as a "symptom" from Individual and Collective Soul, so when I try "something to paint" all I do is tap into what Hillman calls "archetypal" images common to the ancestral imagination of everyone. Hillman argue archetypal psychology is a polytheistic psychology, in that it attempts to recognize the myriad fantasies and myths (gods, goddesses, demigods, mortals and animals). Through this way of making art, you can explore the full range of human emotions.
So the Shakespearean Ophelia becomes an excuse and motivation to investigate the betrayal and despair, a fairy appears as the search for shelterin a pleasant locus of the soul, a fox is nothing but a metaphor for freedom.
My subjects are unreal and inhuman treatment against a requirement for all human realism. So even if I try to conjure up an imaginary or mythical past, the search for realistic detail is also pressing in an attempt to straying».
Portfolio: tatianamartino.carbonmade.com
Weblog: pointlessmuse.wordpress.com
Tumblr: pointlessmuse.tumblr.com
Her articles on English literature and Anglo-American are regularly published on the site specialist Weird Letter, which is co-editor with Andrea Bonazzi weirdletter.it
She also writes for:
– the web magazine Fantasy Planet, La Corte Publishing (Fantasy and Science fiction)
– the weblog of the Study Center Anna Perenna (mythology and philology)
centrostudiannaperenna.wordpress.com
– the blog Mitologema (mithopoeia and classical, german and medieval philology) mitoeanima.blogspot.com