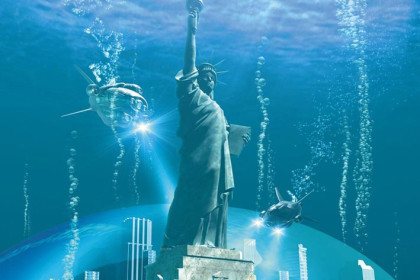 Would you like to spend a holiday in an exciting hotel? Here are some "out of the box" ideas for those who want "something new" or something to dream about.
For example, in China, at Waterworld, to be built within an abandoned quarry in the Songjang region. In India, in Kerala, there is the  Green Magic Treehouses, built on a tree with environmentally friendly materials and powered by "green" energy but with all the comforts. Do you love the sea? In the Maldives, the Conrad Maldives Rangali Island offers a spectacular experience: You can dine in the depths of the sea, the restaurant is built under water. On the Fiji islands, the Poseidon is located 12 meters below sea level, with transparent Plexiglas walls for a unique view of the seabed and marine life.
For aspiring hermits, in Turkey, at The Village Cave Hotel in Goreme, you are in the middle of nowhere: the hotel is in a rock formation, in an area that has been inhabited since the 1950s. On the contrary, in Tokyo you can sleep in a capsule, in the Shinjuku Kuyakushomae Capsule Hotel: two-meter spaces for one person plus a common area for guests. The price is the advantage: very low. Continuing the claustrophobic theme, in Stockholm, the Langholmen Hotel is a real prison that is no longer used, but you can enjoy a romantic dinner by candlelight. However, if you prefer open spaces, The Commercial Space Station Skywalker – bookings starting in 2015 – will be placed on a space base located 515 kilometres from earth, while The Lunatic Hotel is still being designed. Location: on the moon.
Lots of ideas for those who love art and design. In Berlin, you might be interested in the Propeller Island City Lodge: only thirty-one rooms, without number but with different topics: you go from the castle room, to the colourful room, to a room made to feel like a coffin, the walls and floors are wavy and hanging. In Lisbon, there is the Internacional Design Hotel, where each floor has a different style: design urban, zen, pop, tribe, with lots of graffiti on the walls. In the centre of Madrid, the Hotel Silken Puerta America is a tribute to the world of architecture, design and freedom: each floor of the hotel was designed by a renowned architect such as Norman Foster, Jean Nouvel and Zaha Hadid.
Finally, for western fans, in California, The Wigwam Motel is the reconstruction of an Indian camp on Route 66, just off the Navajo Reservation.