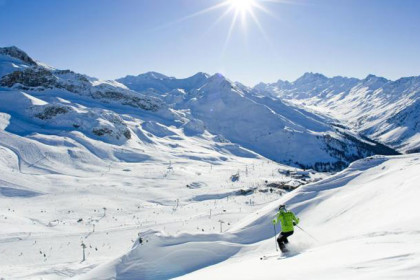 Its name is almost unpronounceable: Ischgl. More understandable instead the nickname "Ibiza of the Alps", valid especially in winter: characterized by a number of hotels and venues, the town attracts music stars, who are often happy to add the town to their tour stops, sometimes as the opening date. The Tyrolean metropolis of lifestyle, it hosts to a go-kart track in its center and a multi-brand bike-test-center.
The valley where Ischgl is located, called Paznaun, is the queen of skiing with over three hundred and fifty kilometers of trails but in the summer it becomes a paradise for those seeking to relax and experience an idyllic nature sometimes reminiscent of Scotland (due also to the presence of Highlander cows), explore, mountain bike, motorcycle on bendy roads. The landscape is fascinating with its many facets, alternating between steep cliffs and rolling lawns, tranquil lakes and thundering waterfalls.
In Silvretta National Park you can easily meet mountain goats, deer and other local species. Hiking has a long tradition in this area, with many theme excursions for all levels of difficulty. Between fishing, horse riding, tennis, Nordic walking, flying school, climbing and bouldering, the whole valley is presented as an oasis of fun in nature, with a special focus on families.
Scorpions will open the new winter season. The German group will indeed animate the famous Top of the Mountain Concert on the notes of Wind of Change, with 20,000 fans expected. The concert that will open the season in the Austrian town is expected to be an event not to be missed, after the performance of Roxette in 2011. This year, for the first time, the event multiplies, because throughout the week – from 23 November to 1 December – there will be concerts of international stars. The entrance to the "Top" concert on December 1, at 18, will be free and reserved for those who have a ski pass, which will provide free admission to other concerts.
The winter sports enthusiasts will be able to start skiing from Friday, November 23 on 238 km of slopes and 43 hi-tech ski tows. Special packages are valid from November 22 to December 2, which offer 4 nights and half-board, 3-day VIP ski pass for the international Ischgl / Samnaun (Austria / Switzerland), free entry to concerts on 24,28 and 29 of November and the Top of the Mountain Concert on December 1, starting from 499 €.
Info and booking: www.ischgl.com
or: Tourismusverband Paznaun – Ischgl Dorfstr. 43 – 6561 Ischgl – Austria Tel. +43 (0) 950990 100 Fax: +43 (0) 50990 199 e-mail: info@ischgl.com