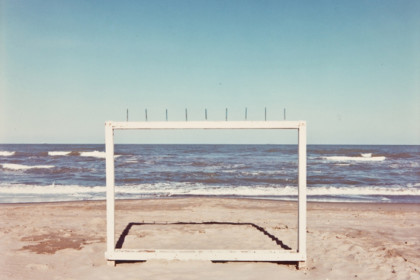 There is no photography, in Reggio Emilia, without Luigi Ghirri. The main protagonist of the image culture of the region – and not only – to the artist is now dedicated a retrospective that brings together 300 works, including shots, dummies, books, postcards, record covers, magazines, on a journey that explores his Pensare per immagini (Thinking by images).
Since the early seventies Ghirri began his work on the basis of an approach developed within conceptual art, quickly establishing himself on the international scene, so much so that in 1982 the exhibition in Cologne Photographie 1922-1982 was presented as one of twenty most representative photographers of the twentieth century. But he was not "only" photographer: in 1978 he founded the publishing house Semicolons and began to organize exhibitions as Iconicittà (1980), Viaggio in Italia (Journey to Italy 1984), Esplorazioni sulla Via Emilia (Explorations on the Via Emilia 1986), during which occasions he was able to make the acquaintance of important Italian artists and intellectuals with whom he had a constant exchange of ideas and projects.
All the work of Ghirri, who imprinted his research on the exclusive use of color film, is founded in the poetics of the twentieth century, from Dadaist objet trouvé to conceptual art, not to mention the models of American pop art, the base of the his surreal and ironic approach that leaves you enchanted and amazed. In fact, many of his photographs seem apparent photomontages while everything is already in the real, and picture bring real to light, return it to himself, Ghirri's path is marked by trompe-l'oeil, geometric games by boxes, photo by photo, reflections and maps, according to a poetics that draws sap from a sentence of Giordano Bruno, "thinking is the mirror image".
The show – presented in 2013 at Maxxi in Rome and whose materials come from Panizzi Library and the house of Roncocesi which granted a large number of vintage print – is also more than that: thematic sections unfold in three groups which bring Ghirri's vast production to the themes of the icons of landscapes and architectures, allowing you to retrace places and stories immortalized by the photographer, often along its daily and family via Emilia. The artist himself said: "These places form a kind of strange sequence made of stones, churches, gestures, lights, fog, tree branches covered with frost, blue seas, our landscape becomes impossible without scale, without a geographical order to orient".
And the places, the rarefied atmosphere (obtained through most accurate printing technique), the clouds – the protagonists of a memorable photo book of 1990 – bear witness to a deep relationship with the company image, a constant dialectic between vision and perception, and complexity, richness and artistic stature of Luigi Ghirri.