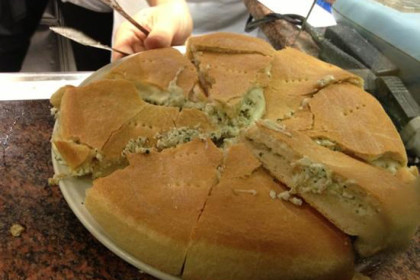 I eat a sandwich standing, in a sort of little bar full of people. Scents, I am hungry just to smell them, especially the one from the mythical "carciofa". To eat in Pepén's you can bear everything, confusion, expectations, lack of chairs and tables. Because Pepén is a "must" that is well worth some small inconveniencies already forgotten at first bite.
Just call it sandwich shop is very 80s but you get the idea; the proposals are like fast food but quality is in the air as you approach the shop, in a narrow street in the historical center of Parma. Pepén has a long history, it was born as a after-theater, in 1953 it became thank to Clerici (the original Pepén) a sandwich shop that at the time was open until the end of the shows of Teatro Regio. Gradually the timetable have shortened getting to the typical openings of a normal diner.
For the traditionalists, there are arancini, pizza or sandwich with Parma ham, but the specialty of the house are the "carciofa", a sort of flat bread stuffed with melted cheese and artichokes, and a sandwich called "spaccaballe" (breakballs), the name comes from the insistence of customers in asking for it all the times. The ingredients are roast (pork, inevitable in Parma), lettuce, tomato, mayonnaise, ketchup and fresh chili. The bread is emptied from guts, lightly toasted on the grill, stuffed with sauces, lettuce and tomato. Finally they add the meat with a pinch of chili. There are other delights as the "carré al cavallo pesto" (yoke with horse), the "salsiccetta e senape" (sausage and mustard) or the "uccelletti con wurstel e tabasco" (birds with sausage and tabasco sauce) to wait for taste testers.
Generations of people have dropped by Pepèn, and even if in some old customer's opinion time has changed the ingredients in a more "light" sense (after all change is in nature of things) the fame of one of the last places where you can still breathe the parmesan atmosphere is high. To attest this there is Trip Advisor, which today calls it a "no.1 ranking of 292 restaurants in Parma" and it is written, among other comments, such as "pleasantly crowded" and "institution".
If you are hungry, keep in mind that Pepén is in Borgo Sant'Ambrogio 2 in Parma, open from Tuesday to Saturday from 8.30 till 19.30 (phone 0521.282650)