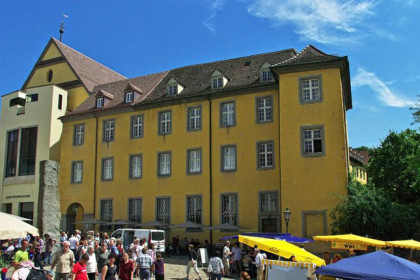 The expressiveness and attractiveness of a museum depends mainly on the works exhibited and the mounting architecture of the building, which is to offer art space and breath. After careful restoration, reopening in the spring of 2010, the largest and most important museum of Freiburg rightly deserves the title of "new Augustiner museum."
The former Augustinian monastery, almost as old Freiburg, is mentioned for the first time in 1278. Enlarged and rebuilt in Baroque style in the early eighteenth century, the church was used as a theatre from 1823 to 1810 while the other buildings became barracks. Closed in 1910, the theater became a museum in 1921 and opened in 1923. The current layout follows from the Municipal Collections of Freiburg, and its original concept has remained virtually unchanged for decades despite the recent total refurbishment (from the foundation) under the direction of architect Christoph Mackler.
Museum for art and cultural history of the Upper Rhine, the Augustiner is rooted from one part in its region, the other in the concept also includes the most ordinary objects, often of everyday use, which tell the story of the men of their time: heterogeneous collections offer the visitor a panoramic view. The collections currently not on display, or only partially exposed, include a large collection of graphic design, decorative art, artifacts home of the Black Forest, coins and watches.
The treasures of the museum include gold and silver vessels from churches and monasteries of Freiburg, masterpieces of sculpture and painting by Hans Baldung Grien, Matthias Grünewald and Lucas Cranach. Visually stunning the room with the tall sculptures of the prophets four meters from the cathedral of Freiburg and the gargoyles visible up close, as well as the church organ of 1730 located in the apse.
As a sign of solidarity with the museum and with great sense of civic duty, citizens have joined together to create the foundation that allowed the Augustiner Museum renovation and redesign of the museum, so, Friends of the Museum Augustinian engaged for many years in the financing of new acquisitions for the targeted expansion of the collection, exhibitions, research projects, supported by various initiatives such as charity concerts.
To know more:
– pages about the museum in the official website of Freiburg
–  website of the architect Christoph Mackler with details of the restructuring