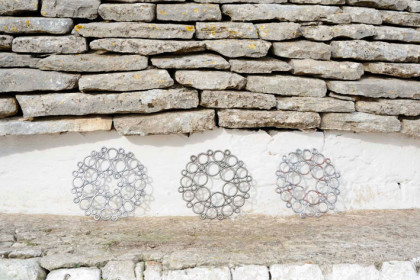 Fire beneath the ashes! An invisible dormant flame that is always ready to be heated with protagonism. To make his character a starting point for countless fashion stories. Design. Iron – wrought, engraved, processed, and crude– has forcefully returned to emphasize the beauty and dynamism of its soul. It certainly is not light. It is certainly not easy, yet it is able to reinvent itself over time to generate an increasingly new idea of furnishing.
That of De Castelli, who works the metal as if it was delicate gold, is refined. The result, furniture plagiarizing spaces and subduing them by imposing its own character. They are plates or metal wires that magically become embroidered patterns; becoming pots and potholders, partitions, planters or lamps. They turn into heavy tables and chairs designed for a tête-à-tête with nature. Designing them are famous names in modern design such as Aldo Cibic, Michele de Lucchi, Ramon Esteve and Ron Gilad.
During the last "Fuorisalone" in Milan the Israeli artist and designer entertained with his iron games. He used the material as a marker by drawing flimsy house profiles. The result, purely evocative, stands between art and design. A hybrid dimension, half-functional, where the plasticity of the material lends itself to aesthetic and cultural games. Ron likes to instrumentalise iron to reduce the more spontaneous boundaries of perception. His vases and trays that break all previous logical patterns by launching openings into the unknown, into the boundaries between real and fantastic, are curious. This is exactly where Gilad and Baldereschi meet. Both are creative and fans of matter, which they use with irony. That irony that Alessandra uses in Fil de fer, fun project of tables and seats where material gives way to the illustration of its image.
Milan develops theme of iron into a show: Between the hammer and the anvil – Design and handicraft of wrought iron, a tale midway between history and expertise in the field, but also stylistic exercises to capture its relevance. Involved is the designer, Giulio Iacchetti, together with four colleagues (Federico Angi, Carlo Contin, Dunja Weber and Studio 4P1B). From North to South the leitmotiv does not change. In fact, the project entitled Doilies by architect Vinella, is from Puglia. The iron wires are worked as if they were cotton or perhaps silk and they recover typical crochet patterns. The result is an explosion of popular culture stripped of the old. It is a series of decorations and furnishings transformed into an infinite series of hot pads, pot saucers, tablemats, centrepieces and everything that the imagination can inspire, including new forms of wall-art!