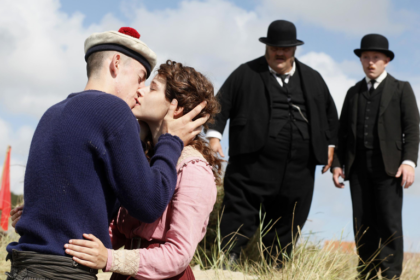 Cannes like it bizarre. In family, with friends, in society, in carnal assemblies. The eccentricities of behavior pushed to paroxysm distinguishes some of the films that we are watching at the Festival, this year, in competition and in parallel sections. Stories and characters always on the edge of insanity, that to indulge their impulses, or those of the director, achieving uncharted territories of their own personal, emotional, physical and sexual identity. But what does of an act, a movement of the soul, subject of extravagance? It is subject for psychologists; however, we will try to draw a map of the most interesting films of this genre.
'Rester Vertical' is a film by Alain Guiraudie of the official selection, in which Leo, screenwriter in creative crisis, goes on tour in the South of France in search of the wolf, who someone tells him lives in the woods nearby. Meanwhile, he knows people: a shepherdess of goats, with whom he has a child, a dying old man, who lives in the countryside with a young man of unknown origin. And a kind of seer 2.0, but who lives in a forest. Nor it is Leo's fault when, suffering from an original sexuality, approaches to some of the characters mentioned before. They are 'drawn' in a curious way too, to attract his attention in the first place and then his senses. Is there any need to disturb the lie detector, as the seer of the woods does with Leo, to understand what dwells in his heart and what path will take his life? That of a father's boy who, despite all kinds of adventures, manages to keep intact the love for his child? Yet it happens. Leo covered with suction cups and sensors between the trees. It happens also that the father of the shepherdess, which looked like an ogre, in fact harmless, direct his glance on Leo, but stops at the right time. You cannot get any peace in Camargue.
Here we are to 'Ma Loute', by Bruno Dumont, starring Juliette Binoche and Valeria Bruni Tedeschi. A director who is not afraid to face the most frightening aspect of our society, his mocking and irreverent superficiality, let's say the privileged one of the nobles retired to their country house, in France, where they cultivate hobby such as singing, sewing, aperitifs and where the morality is open, more to satisfy the common trend prevailing in the aristocracy, than for a real vocation. Fabrice Luchini, wonderful actor of French comedy, plays the bubble-head and closed in absurd rituals Marquis, pompous and unnecessarily emphatic poses and vocabulary. His wife (Bruni Tedeschi), who is suffering from nerves and quietly claiming her role as mistress, is keeping at distance a small fishing community of cannibals and trying to contain the instincts of her growing sons, despite never having given them a real education. But this is nothing. The chickens are coming home to roost with the arrival of the protagonist's sister (Juliette Binoche), a singer, but also petulant and whiny woman who will create more than a headache to the poor Marquise. Who watches the film is traversed by a terrible question: why everyone has so slowed reflexes and speak as if they were in a perpetual wedding banquet? Let's say that the relationship between blood relatives are not recommended for this reason …
But Dumont does not reach 'Ma Loute' by accident. He is the author of the TV series P'tit QuinQuin, full of surreal characters, from the bully star of the show to detectives, Sherlock Holmes and Watson cabaret version. In 'Ma Loute' there are Laurel and Hardy, the Calais police, with Hardy suffering from a speech impediment, and in the middle of an episode like a cannon man, hanged by a thread, on the beach.
Fashion according to the Danish director Nicolas Winding Refn? An evil Barnum circus, demonic, where beauty is a martyrdom, thinness obsession but that is taken for granted. And "The Neon Demon", in Cannes competition for the Palme d'Or also, sprinkled with images so seductive and lysergic, as repellents. We will give you the first sequence, one of the best. Jesse, model not yet 16 year old, lying on a baroque sofa, dressed in a laminated blue dress and sprinkled with blood. Industrial – metal sounds in the room. Enough like that, no?
Monsieur Xavier Dolan is rightly considered one of the most promising young filmmakers of our era. In the new 'Juste La Fin Du Monde' depicts the agony of having a family, to love it and not be reciprocated. The mother is a hysterically cheerful fury, who pours her sick bile on anyone within arm's reach, the others like the sound of their own voice, talking over, speaking alone, in pairs, at the table. Only the playwright protagonist (an excellent Gaspard Ulliel) expresses himself and his pain in silence. Here in addition to the story we admire the director's technique. Original and effective. Close-ups stuck to the camera and very blurry faces in the background. As if to say, you, back there, you do not exist.