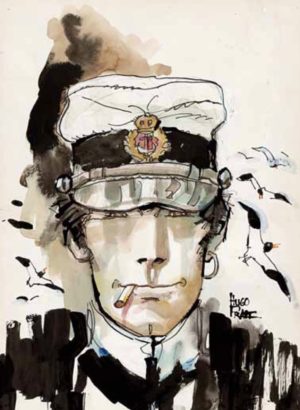 by Nuccio Rotolo
Hugo Pratt is one of the authors who contributed the most to maximize the potential of comics world by renewing the rules of different genres through his ability to mix history, fantasy, reality, fiction, adventure and humor.
In 1945, Mauro Fastinelli and Alberto Ongaro founded the magazine Albo Uragano (Hurricane album) – later known as Asso di Picche (Ace of Spades) which had a short life but that would open the doors to Argentine success pushing Pratt and others to move to Buenos Aires.
Teacher at the Escuela Panamericana de Arte, where Alberto Breccia also taught, his main activity was drawing comics of Anna della Giungla (Anne of the jungle) by Hector G. Oesthereld, which he considered "the greatest writer ever known" and, later, among others, Junglemen by Alberto Ongaro.
Back in Italy, he collaborated with Il Corriere dei Piccoli illustrating many texts by various authors including adaptations by Mino Milani of Treasure Island and Sandokan.
In 1970 he was invited to collaborate with the French magazine Pif Gadget for which he would implement the new adventures of the protagonist of Ballad of the Salt Sea, published in Italy in July 1967: the hero was Corto Maltese, in a series of twenty short stories published between 1970 and 1973. The recognition of Pratt's talent exploded at home as well, the stories of Corto Maltese appeared on Linus magazine from September 1972, where he would continue to publish Corto Maltese's adventures for life, alternating the publication of different magazines and giving life to educated and magical stories as the Sirat at Bunduqiyyah or Fable of Venice.
Fable of Venice is probably one of the most interesting stories by Hugo Pratt: Corto is on the trail of a mysterious treasure, the "Clavicle of Solomon", a precious emerald coming from the East. The stone is a magic talisman on which are engraved mysterious characters and whose legend is linked to the apostle Simon Peter and to St. Mark the Evangelist.
The myth of the Clavicle of Solomon is believed by many a figment of the imagination, but the researches of Corto Maltese arouse the interest of many people until a crime deteriorates events. Stevani, a young blackshirt from Venice, is struck by a mysterious bullet in the living room of his house while examining the diaries of Baron Corvo. The first to come to the crime scene is Corto Maltese who is believed to be the maker of attempted murder and is forced to flee across the rooftops of Venice and…
Cover: image source: cortomaltese.com