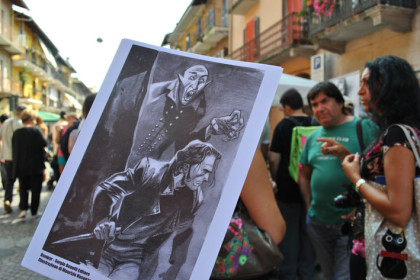 Wine and comics: two effective synonyms for pleasure and tradition, a combination so much dear to intellect as to senses, in which we Italians, modestly speaking, struggle not to be second to anyone. A meeting that was made concrete on Sunday, September 7th at the Grape Festival of Gattinara, municipality of Vercelli which produces the eponymous tasty and renowned wine, thanks to an idea of Daniele Statella, Dampyr staff designer, animated by the idea of "bringing the culture of comics in a context wiggled out of  exhibition circuit which almost always involves the purchase of a ticket, and make it available to everyone, from fans to those who usually does not read comics". Present to the roll-call, his distinguished colleagues Giorgio Montorio (Diabolik), Alessandro Gottardo (Mickey Mouse), Fabrizio Russo (Dampyr) and Ivan Fiorelli (Nathan Never), which in a particularly relaxed and convivial athmosphere let themselves go to a charming round-table full of anecdotes and reflections on "bubbles speech" world: the curious status of "cartoonist in hours," the recent controversy over the Spider Woman signed by Milo Manara, through the personal relationship that binds a designer to the characters to which materially he gives body and life table after table.
Since, however, the Gattinara wine is full-bodied, garnet red color and particularly intoxicating smell, fans were able to "quench their thirst" requiring authors sketch, making autograph books and taking prints made especially for the event, free to sip, during the lunch break, a glass of wine at one of several wineries, as well as to taste the traditional dishes from the indigenous cuisine. Experience in respect of which the dampyrian designer was more than satisfied, either because of the number of participants, and for the enthusiasm shown by municipality to support the initiative, so that for the next year is already thinking about the possibility to strengthen the link between wine tradition and comics organizing real tastings.
All of course will depend on what will be the sponsors who will decide to support the initiative, in addition to various municipalities, partly because the cultural association coordinated by Daniele Statella, Creative Comics, can certainly count on the professionalism and passion but for events of this magnitude obviously he needs adequate financial support. However, considering the fact that the author from Vercelli has a reputation for being a volcanic and particularly fast designer – "the first times Mauro (Boselli, creator of Dampyr, nda) was in trouble, because I sent the script to blocks of ten pages, and I was making the tables too quickly", quips – the search for a suitable location has already initiated, while in the long term, the idea is to" do something even more extensive, involving other aspects of our culinary tradition. "A project of which we expect to see, and of course enjoy the results as soon as possible.