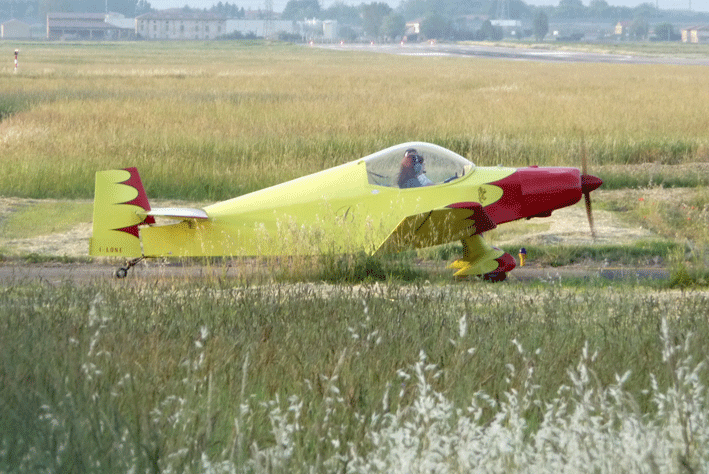 It's called Jodel but it's not Tyrolean. To build it you need a design, a wooden frame like an IKEA closet, Dacron, the engine of a Beetle, the brakes of an Apecar and a basement or garage where to work. It has the colours of a Lego toy but it flies, and you can also travel around the world with it: it's a homebuilt aircraft.
A French design, the Jodel is extremely popular, created in various models; the name is taken from the initials of the two designers, Joly and Delemontez. It has about 9 hours of battery life: with a full, at 170 km/h, it travels about 1500 km; it can carry two people, it costs as a good utility car but it consumes less: for example, in the Parma-Bologna route the engine remains in operation only half an hour. No traffic or stop lights.
Amedeo, aviation engineer from Parma, owns one. «In the mid 1980s there was an active group of airplane buffs who started to build airplanes in their own homes, gathering information from American magazines; at the time I was a university student and I started to collaborate with them and then finally I bought one. You can build these planes by using a kit, in this case you have to show that you built 51% of the machine in terms of hours that you worked on it, or by using designs: you buy the wood, the iron and you follow the designs… my plane was made entirely from drawings, apart from the engine and equipment. In Italy they are still a curiosity, in other countries they are very popular: in the United States homebuilders organize events in order to make children become familiar with airplanes».
These do-it-yourself planes were created for educational purposes and for free time, not for commercial uses: therefore once they are sold the law lapses the machine's airworthiness. The plane buff can study a design, create it, fly it – all under the control of ENAC or C.A.P, Certifying Agencies – subsequently he is then allowed to carry out maintenance, becoming responsible of the machine in all respects. From the moment when the manufacturer decides to sell it, the aircraft turns back to being simply a set of pieces of wood glued together and the new owner (as is the case with Amedeo) before being allowed to fly must demonstrate to the certifying agency that he is capable of handling the machine firsthand.
Does this particular Jodel have a name? «Yes, or rather, it has registration marks that reflect my personality very much: I-LONE», says Amedeo. «The maintenance and flight activities are very similar to that of sail or motorcycle, with these machines you can travel the world or simply enjoy the feeling of freedom they give».
Some informations:
Around the world: