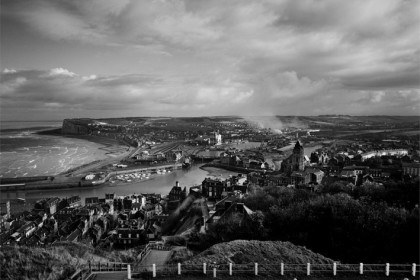 "When you try, in a space, to photograph a subject and the subject is the space itself, it happens that one moves, looks far, near and makes some strange movements as if it were a dance, enacts a sort of gesture as that of a diviner who goes looking for something that cannot be seen because photography is like that, as long as it is not there you can't see it".
To tell the story of the work of someone like Gabriele Basilico, ignoring the path that led  him to photography, I consider it fundamental to start from a particular place and in a particular historical moment: 1968/1969, Milan, Galleria Diaframma. It is here that Basilico meets, forming a close professional relationship and friendship with him, Gianni Berengo Gardin; fundamental point of reference for Basilico, and also the one that pushes him to make photography his life.
The professional change comes when in '78 he starts to create his first real exploration about urban landscape, in that moment he understands to have already developed unconsciously a particular aptitude for "contemplative photography", which allows you to view a place or a landscape internalizing and then trying to make it agree as much as possible to "your" perceptual reality – so it is not the quick look of the photographer that captures the scene that he sees, but to stay in one place and catch something "more".
This path in the following years was developed and perfected even more, until the absolute sublimation and beyond, accomplished with two other exceptional documents: the first comes shortly after the Milanese industrial research, and the inclusion in the project of the Mission photographique de la DATAR about the transformation of the urban landscape of France. The second and absolute state of the art (in my personal opinion) the work of Basilico is the project about the rebirth of Beirut at the end of the war where understands, with not a few difficulties also its ethical aspect, that the one he's facing is not a total destruction, but a "skin destruction"; as if the city in front of his eyes had been attacked by a skin disease, a disease which scarified completely but leaving intact the bones.
As a diviner and without get influenced by the war drama he portrays the city as if it were alive, as if it were an architecture in which it was completely visible the physical structure and its destruction. He goes searching for the sense of emptiness to focus on the space, for it to become a major player in the scene, and this helps showing a city that despite the drama always visible, still has its always strong and clear identity despite the deep wounds. In that context the space told, in addition, a piece of story.
In memory of Gabriele Basilico (1944-14th February 2013), my inspiration for Brownfield