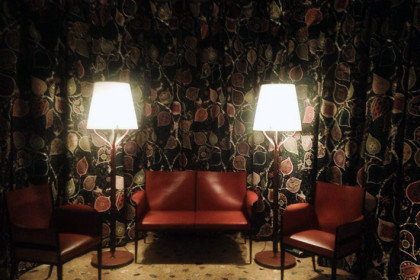 Fuorisalone 2014 running, in a hurry to see as much as possible, but in the end this year I have seen little or nothing, but I saw beauty. After the suggestion of a friend, I jumped at the Palazzo Serbelloni to enjoy Hermès seen by Michele De Lucchi.
In the striking Milanese neo-classical palace by Ticino architect Simone Cantoni, which hosted, among others, Napoleon Bonaparte and his wife Josephine, the helical staircase – illuminated by amber-earth kissed by the sun color – envelops you in a downward spiral that accompanies you in the front room where begins a journey of fabrics, lamps, containers, timber, seats in warm, penetrating colors… a journey into a land shrouded in mystery.
But just back to Gian Galeazzo room, from where the whole exhibition starts and where all of a sudden you are in a sort of jungle: in the background fabrics printed with blue, purple, green and light blue depart from the ceiling and fall down in cascade to the ground to cover a bay window, and the surrounding wood seems it wants to hug you, soft light and tall plants in an appeal to African-Indian colonies, so it seems to me.
Leaving behind this atmosphere full of sensuality we pass to Napoleonic Room, where the architect De Lucchi, playing with a material congenial to him such as wood, "covers" the walls in hanging and overlapping grids that give the impression of crossing the River Nile when Moses parted the waters for the passage of his people, but they also seem to pull off the petals of flowers. Here are his new creations on display (lamps) designed for Hermés, but there are also pieces of the French fashion house new collection. Proceeding through Napoleonic room you enter in Beauharnais room, and here is a space dedicated to relaxation with a daybed in soft colors and an elegant dresser to store tea tableware.
The journey ends in Parini room: a sofa with two armchairs from the same collection to its sides strongly stand out, accentuated by the frame of fabrics with blue and burgundy prints illuminated by the lights of De Lucchi.
Leaving the palace, my friend and I find ourselves in the chaotic but wonderful Milan that during the Design-Week is the most beautiful city in the world and where the world this week is poured into a succession of festivals everywhere, sounds and colors and where everyone is friend with each other, seated even on the sidewalks to chat. This is ISaloni Milan.