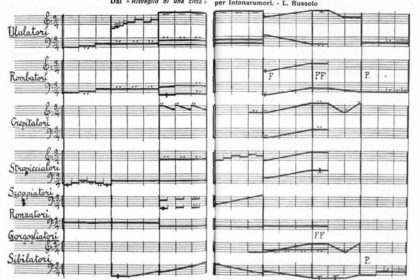 by Luca Ferrari
"Desert schools, conservatories and musical academies ". With these words open up the conclusions of the Manifesto of Futurist Musicians appeared for the first time in 1910, a work by the composer Francesco Balilla Pratella (1880-1955). This will be followed, in 1911, by the Technical Manifesto of Futurist Music, where they will proclaim atonality and free rhythm as the foundation of the new musical thought. Since forever the activities of artists – and perhaps even more musicians – are divided between those who aspire to perfection within the rules and those who feel innovation research as a moral obligation. And above all, innovation means breaking with the past, with "standards", with previous instalments.
Here is the futurist movement, even in music, it pushes to the extreme its fight against traditionalism (in fact the musical high school is still called today "Conservatories"). Yet, always, or at least since man has beaten two sticks at each other for the first time, music means sound, noise, racket.
For some (from Johann Sebastian Bach on) the music is order and discipline, science, mathematics and technology. For others (think of the sounds of the African traditions that come together – because of the slave ships on the routes of slavery – the sounds of American jazz) improvisation, freedom and, as in the case of the Futurists, noise.
In 1913 the futurist musician Luigi Russolo (1884-1947) invents "intonarumori", apparatus that, improved compared with the first experiments of the beginning of the twentieth century, and it reproduces bursts, rumbling, howling and hum. If you listen to Awakening of a city, Russolo song of 1914, you have the impression of watching a set of sounds that could be the arrangement of a war movie. The poem consists of daily life sounds, the roar of a motorcycle, an air-raid siren, the patter of an industrial machine, the sound of a strings instrument to tune.
The Futurists were living in a new era, that of automobile, airplane. In their conception of history, man was born to tame nature through technology. In their conception of music, technology dominates the silence, and the harmonies are transformed into makeshift disorder.
In 1922, Russolo invents the "rumorarmonio" tool designed to amplify the sounds created by the intonarumori. Today we could compare it to a synthesizer, a device capable of reproducing sounds and effects that do not exist in nature. Today futurists are DJs. Electronic music frequently reuses pieces and samples extracted from a video game, or a modem. This is exactly what the Futurists meant by the concept of noise and free rhythm. The worlds of art and music evolve constantly. Yet the artists and the musicians are always divided into two categories: those who know the rules perfectly, and who knows the rules to perfection in order to break them. As artist's task is always to annoy and shock the conscience, the music is always the same purposes: celebration, exorcism and disturbance. Is it not this the task of music?
Cover: Luigi Russolo, from Awakening of a city with intonarumori