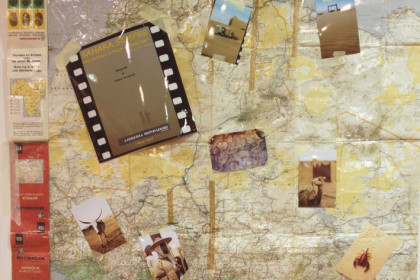 Franco Furoncoli, 1945, has always lived in Parma. His passion for photography is evident in the '60s, when he produced his first picture with his dad's Retinett. We will tell you about him, using his own words.
«In '68, while attending the Faculty of Geology, I set up a darkroom in the basement for the black and white, but the passion for photography began to give me some problems… I bought my first Nikon I think in '65, with money I made with my first job, as a quantity surveyor. I used to take pictures of everything, everything appealed to me, I realize this now, after all this time, when  looking at the negatives I still have, the camera was always with me. The scenaries, our hills, Bassa. I instinctively felt the need to 'tell' about all that.»
«The first" stories" are about London in the summer of '68, and Paris, in '69, in black and white. In '70 I responded to an advertisement in the Gazzetta di Parma and I found myself with a Hasselbald in my hands, to take pictures at a wedding! In 1972 I left my job and after a couple of years I opened my studio in Parma: Foto zoom.»
«The work was going well, I slowly was directed towards the professional photography for the food industry, and for technology. At the same time I spent my time taking pictures of my city in colours, attracted by the light of the changes of  individual places, and the cycle of seasons. In 1985, realizing that I owned a lot of photographic material, I proposed my work to a parmesan editor, and the book "Passeggiate a Parma" was born, which gave me the first emotions, the pleasure of the paper coming out of the press, the scent and the touch of paper. I continued my journey through the town with "The Cathedral…", a search on the light that during the day passes through Piazza del Duomo and the lights inside the church, then I published my personal interpretation of the Antelami deposition up to "my" Book of Paris, a reading of the last photographic work of Hemingway's A Moveable Feast. All photos in black and white, 6×6, taken only with a regular objective, my meeting with Fernanda Pivano, her preface are the last real emotions that I was lucky enough feel. My passions? Jazz, which led me to the documentation some of the great artists, American writers and the mountains.»
Franco Furoncoli will be on display until the first week of December at the Mondadori bookshop, in the mall Euro Torri (Parma), with photographs taken in '76 and '81 during two trips to the Algerian Sahara and Mali. The pictures are dedicated in part to the light and power of colour with vertical shots, others portray the "desert people" and its different ethnic groups.
To know more: www.francofuroncoli.com