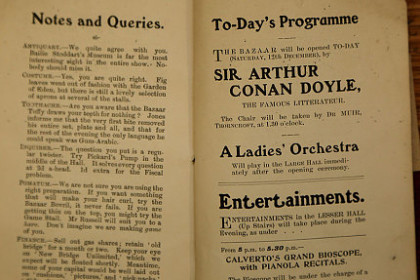 An historian has unearthed the first unseen Sherlock Holmes story in more than 80 years that Sir Arthur Conan Doyle wrote to help save a town bridge. Walter Elliot, 80, found the 1,300-word tale starring the famous detective in a collection of short stories written for a local bazaar.
The wooden bridge in the Scottish town of Selkirk was destroyed by the great flood of 1902 and locals organised a three-day event to raise funds for a new one in 1904. As part of the event, organisers sold a collection of short stories by locals called The Book o' the Brig. The famed author, who loved visiting Selkirk and the surrounding area, contributed a tale before opening the final day. Mr Elliot has now unearthed a copy of the book and spotted his story "Sherlock Holmes: Discovering the Border Burghs and, by deduction, the Brig Bazaar".
He was given the 48-page pamphlet more than 50 years ago by a friend, but forgot about it until recently when he looked in the attic.
The booklet will be on show at the Cross Keys Selkirk Pop-up Community Museum from Saturday, along with Mr Elliot's painting of the replaced bridge.
Article from The Telegraph, read here the full text and the Sherlock Holmes' story
www.fermoeditore.it