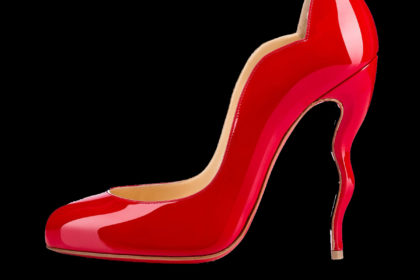 by C.M.
"The foot is an erotic organ and the shoe is its sexual covering" (William A. Rossi). The charm of the feminine gait is indisputable: the heel pushes the woman to a particular posture that enhances the rounded shape of her backside resulting in nasty glances from the other sex, and no! How often women stop to look at a potential "rival" just because she undulates deliciously on a shoe and they are not able to! Yeah, because walking on a décolleté, on a high heel is an art, not all women are as good at doing so, and those that try to act as pseudo-sexy are quite funny.
Lets imagine Marilyn wearing a pair of sneakers, in her 166 centimeters for some or 168 for others, lets picture her going away from us, from the back, and see her swaying, as only she could do, while wearing sneakers. What effect would have done! Probably we would not have even looked.
Well, now rewind the tape, (we are in the 50s), we review the same scene with Marilyn wearing a stiletto heel. What vision would our eyes follow?
We would see harmonious curves, curves drawn by a flattering pink-powder silk dress that rests on the hips to fall, free, to cover a few centimeters of her knees and then, continuing down, we would see legs in a veiled, somewhat falling, finishing with a thin ankle nestled in a shoe, which in turn, reminds us of a woman from the waist down.
This' how I see this incredibly feminine accessory, I see it as if it was the body of a woman, but if you looked closely, you could see the "wiggling" of the body/shoe in motion. A rocking sensual beyond belief that makes men go crazy and of women goddesses of an Olympus, sometimes unattainable.
The décolleté shoe is the woman and the woman is the décolleté. They are one … when she puts it on, it clings to the foot, it surrounds the heel like ivy twists to its reticulated underlining slender ankle, giving off femininity and sensuality in a pure state in a unique being … a single form.
Story has it that a man invented the first shoe with heel, his name Louis XIV, also called "Sun King", just to be the highest of his subjects. Pure vanity.
Man, slowly, left the heel while maintaining the vanity, but by leaving to the woman the pleasure of becoming the object of desire, because in the end, even if she will never admit it, she loves to be the protagonist of the erotic thoughts of a male or a woman.
She points it out as she goes, turning her back, but with a wink…!
Cover: Christian Louboutin, Wawy Dolly