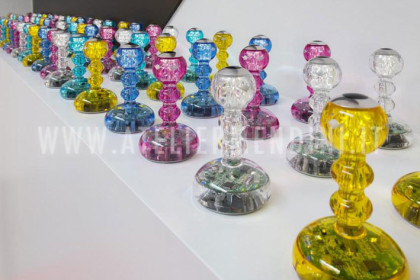 I first "met" Mendini when I purchased Lot of Dots for Swatch, in 1990, the watch completely covered in squares. Growing up, I discovered design and start following the architect/artist, I remember that the structure of Alessi headquarter really impressed me: a kind of Willy Wonka's chocolate factory that stands out in a natural environment thus revealing a contrast almost surreal. And what about the Materdei and Salvator Rosa metro stations in Naples? Speaking with an acquaintance I told him that Naples had the most beautiful subway in the world, by way of reply he said that for the first time someone did not mention the pizza, but a station!
The multicolor "squares", recurrent in his works, we can define it as a kind of business card?
I use the "squares" polychrome from long time. I cover them with any kind of surface: fabric, wood, porcelain, mosaics, metals, carpets. This kind of decoration is both analytic and synthetic, depends on the distance from where it is observed. It is a descriptive and romantic system of styleme, and I guarantee that the object hit by it proves emotional. Yes, perhaps the "squares" are one of my distinctive element.
Some designer items it manufactures will be everyday, Anna G., Alexander M. …
I draw large and small objects, from architecture to jewelry. Some are prototypes, or unique, or even sculptures. Others are industrial products from large series, such as the Swatch, or the corkscrew for Alessi. The denominator of all these objects is always the possibility of making poetry, to give them a soul. Even when they are functional tools.
How did you come to think of a subway station?
A subway is a great dynamic and invisible project, which becomes visible only in its stops at stations. So it is a punctiform working. In the case of the metropolitan area of Naples, it was decided that each station had its own different image from the other, and that each image matches with its neighborhood. Therefore, stations are made by many different architects. We also decided to collaborate with many contemporary artists, and we have thus obtained the "Subway Art".
I find that Mendini works radiate sunshine, happiness
Yes, it is true, sunshine, positivity and good energy are the characters I'm trying to introduce in my work, expressing a message of fairy tale in this age of violence.