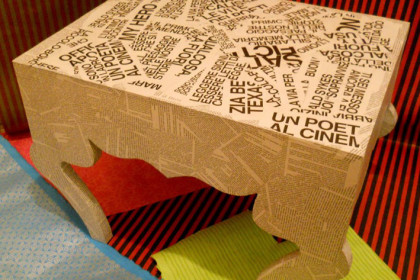 From the meeting between an architect and an artist was born an idea developed in a very short time and reflected in the design scene through an international exhibition, a passage to the TG and a round of specialized press, by a common passion for the eco-sustainability comes to life an exciting collaboration and an original creative project: Ecocentriche Design, "out of one thing comes another".
The design and recycling of Ecocentriche
Our work begins from the common passion for environmental sustainability, preserving resources, maintaining unchanged our ecosystem without polluting it further is very close to the heart, so we chose to do the best eco design reusing recycled materials and objects disused. This results in relook of old furniture which are coming to "new life" in the upcycling of materials that are "redesigned" for decorative or functional purposes.
Your products aim for a design that recalls the "retro", the choice comes from a market demand or reflects a personal taste?
Our objects very often come from inspirations that we find in the shape of the object or a material that we want to use. Typically we choose a "playful" style to which are often interwined retro suggestions that are ironical even about the same complement, certainly the trend of the market interests us but we also believe that our creations have a precise identity especially customizable according to the needs of those who choose to have an "eco centric" object in their house.
Each one of you has a specific role within ecocentric? There is who draws and who builds or on the completion of the project both proceed  to the realization?
Our creations require painstaking work, in certain prevails the personality of one while in other, vice versa, the imprint of the other, but each of them has the big or small contribution of both in a continuous compromise, with great collaboration, mutual contamination and in a climate always strictly playful.
The eco-recycling-design as it has been accepted in the largest events dedicated to industrial design?
Our small company, while enjoying several quarters, was born about a year ago, so we are still at the beginning of our journey, however, during the events that we have attended, the public response has been gratifying. Many people showed curiosity and interest towards our creations enjoying themselves discovering what was the material, or the technique used to obtain the final result. We believe that, especially in Italy, the public has yet to "trust" recycling as a true resource to use in the design, but we are confident in the future and happy to be in our own way pioneers.
 Violetta Canitano, architect and designer, Annarita Mameli, artist of creative recycling: www.ecocentriche.com
The images are taken from official website