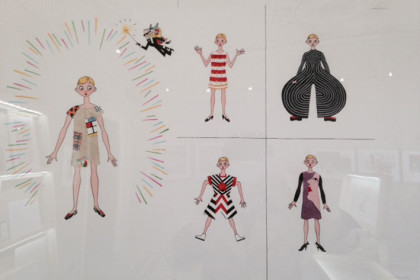 A colorful character that flexes backwards to photograph a showcase of… books! They are children's books, no… they are for adults, mah! They sure are design books, or rather, are storybooks revisited with taste, with good taste. Photographing them because they are his creations, his works.
But what brings an internationally renowned illustrator for a stroll on the streets of Parma?
There is an exhibition in Palazzo Pigorini (until January 13th, 2015, I suggest you to do it and bring the kids, if you have), entitled Browse Rooms, and right here browsing room by room you meet Steven Guarnaccia that, quietly, pauses to tell about his job, his collaboration with the publisher Corraini, to people who are in their own way every day artists.
Goldilocks and the Three Bears is the first in a series of three fairy tales, which hopefully will come shortly to be four, where the child protagonist of the story is defined by Guarnaccia "design expert" because she selects chairs and beds, verifies the convenience, sets out what will be used or not.
But why Guarnaccia decided to review these fairy tales?
According to the illustrator children must know that behind a chair, as behind a cabinet, there is someone who has designed and then built it or he make it build; and why not do it with objects that surround us every day? Children are curious and propose their "historical" fairy tales in a modern way or otherwise different that leads them to ask questions like "but why you lean your back to a ladder in that chair!" (Mackintosh Hill House).
The Three Little Pigs is the second of the series. From design to architecture is a short step and Guarnaccia hires for this fairytale three manufacturers of houses: Le Corbusier, Frank Lloyd Wright and Frank O. Gehry. I would say not bad! There are the Glass House, the home of Gehry and Fallingwater and a big bad wolf in which the illustrator sees Philippe Starck. Again, these are questions of children "but how are dressed these pigs!", "But what a house, it is not made of straw!", to explain to the children Guarnaccia's drawings is taking them on a interplanetary journey, "but where are these houses! on Mars! but they are fake, that is crooked!"
Well, if you live in a house with well-defined architecture with design furniture you would not be a fashionist. And then in your library you should have, even if you have no children, Cinderella, the third and final book in the series for now. So, here Cinderella indulges herself, or rather is our designer who travels the world's most fashion ateliers. She uses a vacuum cleaner instead of that brush to clean the infinite floor, in the fitting of wearing she wears a Yamamoto sported by David Bowie in a tour in 1973 or Alexander McQueen, loses a sandal Miuccia Prada at midnight … more fashionable than that! By the way, our Cinderella is portrayed by Guarnaccia as Twiggy, the first androgynous model of Warhol's Factory era. Sure, and what about the fairy? Karl Lagerfeld.