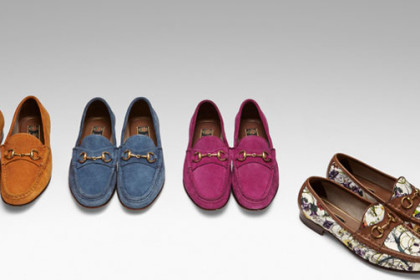 Few people know that horsebit loafer was born in Tuscany in 1953 when Aldo Gucci, son of the founder Guccio Gucci, decided that the family brand should go into the shoe business. The loafer since then has become a key element of the male and also female wardrobe.
To create the first unisex model, Aldo Gucci took inspiration from horses and applied to a loafer a double ring with bar pattern. Gucci loafers became a classic, beloved both by ordinary people and celebrities, such as Alain Delon or Francis Ford Coppola, who are captured while wearing them. Horsebit loafers leave their imprint in the history of costume and in 1985 became part of the permanent collection of the MoMA in New York.
60 years have passed and horsebit loafers remain a symbol of elegance, the brand is so dedicating 2013 to celebrate this accessory through an exhibition at the Gucci Museum in Florence. They exhibited a wide range of loafers from the archives of Gucci, which tell about the evolution of the shoe over the years. In the background you can see black and white images depicting Hollywood stars donning the timeless loafers. The models show the application of the well-known horsebit to the most different materials – calfskin, suede, patent leather, python, ostrich, alligator, satin and canvas – and the classic combination with other symbols, such as the striped ribbon, bamboo and the double GG. A rich variety of proportions, including the model with the heel, which gave impetus to the loafer for women, and the hybrid shoe, a halfway between a loafer and a boot.
The exhibition also includes versions made famous by Madonna at the MTV Video Music Awards, by Brad Pitt in the movie "Fight Club" in 1999 and Jodie Foster during her teenage years in the seventies. To link the present with the past the house's creative director, Frida Giannini, has created the "1953 Collection" a capsule collection dedicated to the loafer superstar. The base remains the same, with the tubular structure handmade and no insole for a better comfort (a true test of craftsmanship), while are changing colors and materials, now much more likely to pop tones. The horsebit is now antique brass or nickel and loafers have inside the label "Gucci 1953 Made in Italy".