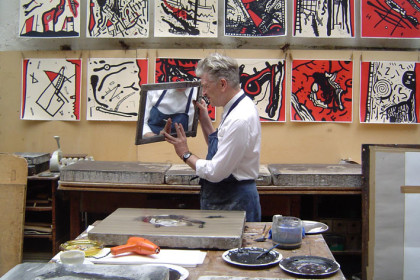 From the darkness of night, an image that instantly evokes the figure, gushed a light filled, unexpected, revealing. That – we will see it – of a man who knows.
David Lynch for his "first" in Tuscany, at Lucca Film Festival, he could get out of a huge pink pinna, or he could do it from behind a scarlet curtain. Instead, the director from Missoula (Montana), landed Saturday, September 27th in one of the most beautiful cities of Italy for the 10th edition of the exhibition dedicated to him, he came out of the closet, the color of the moon. Spark of pure cinematic genius, deus ex machina of a part of the best films produced from the second half of the last century to the present, has been rewarded with a triumphant welcome. Imposed by Wild at Heart – citing the Palma d'Oro in 1990 – of the thousands of fans flocked in town to see him. A sincere river of people, cross-age, in which the filmmaker has immersed himself, body and soul. The young founders of the Lucca Film Fest wanted him here, that have sewn three rich and varied theme days, from full retrospective of his films, with an evening dedicated to the best music composed for his films – many of which by the companion Angelo Badalamenti (a little what was Herrmann to Hitchcock). The tribute includes the Lost Visions exhibition, open until 9th November.
TRANSCENDENTAL MEDITATION. More than a way of life for him, meditating for over 40 years. This practice was the theme of the meeting with reporters at the opening of the festival, which is closely connected to his filmmaking. In seeing Lynch so involved in a discourse that talks about himself, his life, we all moved, it was inevitable.
HOMO MAGNETICUS. Painter, filmmaker, photographer, video artist, writer and producer. An arts centralizer that takes time without being gobbled up by the Hollywood machine, which does not carry a film from 2007 (Inland Empire). But he does not care, even though he knows that fans are waiting for him on the big screen. Like all great, Lynch makes sipped films. About ten.
SENSITIVITY. Meditation and cinema, a deep question, asked by the mayor Alessandro Tambellini: "You claim to have achieved a great inner peace. However, visiting the very interesting exhibition, I did not find those elements of serenity that you claim to possess. Why your paintings on the contrary, look so scary?". Lynch: "Because the ideas come from our world and our world is full of turmoil. At the same time, however, it grows in me the ability to appreciate life for what it gives us. To be infinite and one like we are". Just a so sensitive man is able to see the dark worlds that others cannot see. And it is, we think, the light conquered after years to lighten his vision.