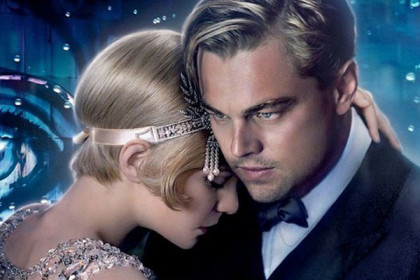 The Great Gatsby by Baz Luhrmann, who inaugurated the 66th edition of the Cannes Film Festival, this year has been one of the most anticipated movies by film buffs from around the world.
Many reasons have created fibrillation for this cult movie. The director has in fact get used its audience  to momentous film as Romeo+Juliet, Moulin Rouge and Australia. Even fashion lovers and trendsetters were very curious to see the Tiffany jewelry or clothes made by Miuccia Prada with Catherine Martin, costume designer, set designer and Oscar-winning director's wife. For the film were made over forty clothes embellished with applications of crystals, stones and embroidery that can be seen at the cinema, but also in exceptional exhibitions. The exhibition Catherine Martin and Miuccia Prada Dress Gatsby was inaugurated in Prada Epicenter of New York in May, then moved up to June 30th in Tokyo and then to Shangai in IFC Mall in mid-July.
The film, which has as its protagonists actors Leonardo Di Caprio and Carey Mulligan, is taken from the famous literary work of 1925 by Francis Scott Fitzgerald, a book full of contradictions that describes a cross-section of America in the 20s. The  "Roaring Twenties" were the years of the First World War, in which the United States experienced the economic prosperity and they were a turning point even from the social point of view. The skirts are getting shorter, people listen to jazz music, dances are the wildest and women begin to feel freer. These new models are popular due to the film proposals of the time and the icons of the moment are the so-called flappers.
Women like Zelda Fitzgerald, wife of the author of The Great Gatsby, considered the first flapper of the United States or as the dancer Louise Brooks, were symbols of a new way of being a woman, very unconventional for its time. The Great Gatsby is also famous for the 1974 film directed by Jack Clayton where the charming Robert Redford played the role of Gatsby and the beautiful Mia Farrow was the beloved Daisy. Needless to say, after this movie many women will want to live a moment of their lives as if they were Daisy, wearing her clothes or participating in glittering parties such as those by Gatsby. While fashion will be more influenced by the 20s more than it has been in recent times.