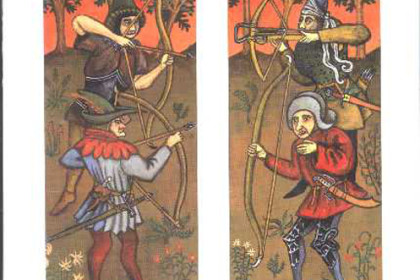 In ancient culture and poetry, archery played a major role. Without resorting to mythology, great historical importance (not just for fans of archery) is played by the Toxophilus, a singular treatise in dialogue form published in 1545 in London by Roger Ascham.
Greek scholar and tutor of Princess Elizabeth, the future Queen Elizabeth I Tudor, Roger Ascham dedicated his writing to King Henry VIII and to "every gentleman and Yeoman of England" – Yeomen were farmers, rich but noble, who served in the infantry in case of conflict – to use it for "pleasure" and "practicality" both in peace and in war. The importance of Toxophilus is due to several factors: it is the first archery manual ever written, and it is also the first academic work ever published in vernacular, moreover, written by the most cultured archer of a kingdom where archery had a crucial importance .
As we said, the treatise is drawn up in the form of a dialogue that takes place between Philologus and Toxophilus divided into two parts plus a preface. The second part is technical, while the first is full of sophisticated quotations and symbolic references, especially to Socrates and Aristotle. Ascham associated archery to the virtue of honesty and considered it fundamental for the cultivated man, describing its nobility and mentioning Apollonian ancestry, as well as providing a rich array of literary and historical examples; the dialogue reaches the height of sophistication in describing profusely the comparison between music and archery. With some skill, Ascham linked historical examples to the situation of England as he knew it.
The second part opens with the definition of the purpose of shooting, that is, simply, to hit the target. Two factors are necessary to achieve that purpose, Toxophilus says: "Pull straight and keep your distance". A seemingly trivial phrase that hides symbolic intentions in which the right shot is metaphorical and related to matters of the mind, soul, passion, body. Moreover Heraclitus, even before Plato and Aristotle, stated that bow and arrow are an original metaphor for human existence.
The version we present was curated by Edward Arbered and published in 1895 by A. Constable and Co., and you can download it here for free in pdf format (13,42 Mb).