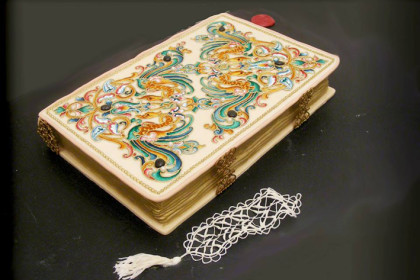 To imagine the confectionery in the United States means thinking to large decorated cakes, covered with colored sugar paste, mounted in bizarre shapes. A widespread fashion, now a few years in Italy, where it found great support among consumers and some crooked nose between ancient confectioners. At first glance, it seems the importation of a foreign product…
It seems, in fact. But there are those who do not think so. There's Laura Saporiti, for example, that after spending so many years on books and medieval manuscripts with which she has earned a sweaty doctorate in History of Art, recovered an innate creativity and started to decorate cakes. The confectioner – award winning in prestigious competitions in the art of cake design – takes us on an amazing journey through the history of decorations used in the kitchen: she tells us that the dishes prepared in elaborated forms are not an American tradition, but fully European and of course Italian. It is infact in late Gothic period that nobility begins to ask cooks and decorators to prepare real scenographic dishes specially designed to impress guests at banquets: strange-looking and unexpected dishes and illusion effects with edible buildings containing other foods. All this had not ephemeral nature: until the end of the nineteenth century each pastry had its own decorator, then came the short century, two world wars, and in Italy cake forms were simplified, until the return of this trend in recent years.
How is it developing today Italian cake design? How can we reconcile the complex shapes – almost architectural projects – with cream soups, with soft dough? It is a challenge, and great results are not lacking. But even more interesting is the fact that in Italy cake design bound immediately, spontaneously, and inseparably, with art with capital A. Among the latest creations by Laura Saporiti there is a "Liberty lamp" fully edible… there is "Botticelli cake", whom sugar tiles painted with food coloring reproduce a refined portrait of the Florentine painter, there are "Fabergé Eggs" and cakes in cloisonné, without missing delicious reconstructions of ancient books richly decorated.
Each fair has welcomed this new interpretation of cake design, so as to devote entire sections to creations that take as a model works of art preserved in our museums or prestigious projects that derive from original projects, as Sigep in Rimini or Abilmente in Vicenza, just doing a couple of examples. The border between the use of models and artistic creation is always very subtle: as thin as the distinction between craft and art, often linked to a hierarchy of artificial materials rather than an evaluation of the final result. Over the centuries we have passed all "minor arts" from Vasari on… and then they called graphics, then photography, design, video, and maybe soon you could even add cake design to the list.