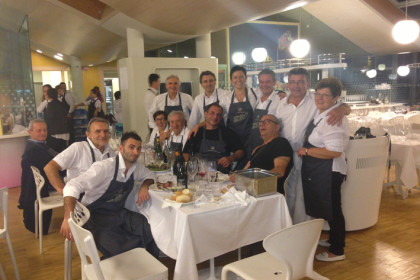 Dinner with the Chef! Trying to avoid the heaviness, perhaps minimizing the sauce with toasted bread. Did you understand who are we talking about? Exactly. B. B. Bruno Barbieri has been star and guest star at the same event on Monday 20th October in Reggio Emilia, on the second floor of Loris Malaguzzi center. Here, in the temple of Reggio Children, Chef Barbieri attended the charity dinner in the restaurant PAUSE, the proceeds of which will go to support the project MIRE – Maternità Infanzia Reggio Emilia (Motherhood Childhood Reggio Emilia).
B. B. is an old acquaintance. For this writer, having interviewed him in 2011 and in January of this year, but also for the general public now. Since he has risen to the television and mundane culinary headlines to be one of three Masterchef of the Sky series. Not "bad" as Joe Bastianich, not Jack-at-all-girls as Carlo Cracco, our chef puts a positive sign next to his name. Of the three, perhaps it is him who enjoys greater respect and fondness.
Born in Medicina (Bologna), twenty years of experience on cruise ships, former owner of the Cotidie in Marylebone (London) and before of the Trigabolo in Argenta, Barbieri knows how to command a kitchen brigade in almost any situation. Improvised, as guest, as owner. That he has amply demonstrated at the PAUSE. Bruno Barbieri's dinner, in collaboration with Ferretti Butcher, had a not bad menu, able to satisfy every palate. All meat, divided into nine – 9! – courses. The dinner menu included Carpaccio of fassona in Luigi style and mixed salad with pomegranate, Eastern skewers with pineapple, Rooster crunchies with herbs, Panful of crunchy vegetables with thyme, Mini Frisbee sausage, Sliced beef of Merlin in Gino style, Salad with pink grapefruit and walnuts, Reggio Emilia red rib by Corrado and Fruit cake.
The two best dishes? The rib, perfect. Tender, very dense with flavor but good balance between cooking at the right point and rosy red on the outside and more red to the heart of the slice. And the fruit cake, accompanied by excellent passito wine offered by Emilia Wine. Maybe there has been too much of a break between courses and other various delays. Surely it is not lacked the substance. It looked like a wedding dinner! The touch of Barbieri has been noted in these two dishes, simple, the first of which related to our tradition – there are those who murmured "could leave out all the rest and serve immediately the rib" – and dessert. Suitable choice after a dinner so demanding and flavorful.
Chef Barbieri is a regular at Reggio: "This city is my think tank" – has revealed. Not only that. We know that in addition to butcher Ferretti, another kitchen often welcomes him: Cooking Loft Spazio Torricelli. You sign up, experiment, use a pan and taste. Under the watchful eye of a seven-star Michelin chef.