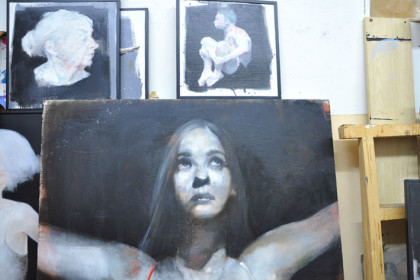 The background is often dark, it occupies only part of the canvas surface and the black paint with drops trickles and smears on not painted areas. Brush strokes are broad and smooth, fast and accurate, immaterial and real at the same time.
To Massimo Lagrotteria (Carpi, 1972) painting is an intimate necessity, a need that never leaves him and pushes him every day to the small studio where he can work on wide size and varied frames: from canvas to wrapping paper, the painter uses different materials which allow him to achieve meaningful and never predictable results. The prevailing theme is figure, especially the human one (great divers and sumo wrestlers, with their bodies as protagonists), but among the more recent works there is a horse in profile which carries with it all the power of nature, the physicality of a muscular and mighty body and harmony with a rarefied and yet present space.
Nevertheless, faces are the subjects who most often appear in Lagrotteria's works. In profile and from the front, always a photographic source that painting decontextualizes and interprets anew, remodels on a deep classicism that inspires the artist – self-taught – from his earliest work and leaks without being a direct reference, only a slight background that guides the hand in anatomical rendering, in perspective, from surfaces in cool tones but never aseptic that fade into an infinite lightness and sometimes light up emotion. Emotions, indeed, but also subtle worries, staging of moods that pass from a sudden laugh to the manifestation of an ephemeral glory.
"Glory" is the hinge on which develops Massimo Lagrotteria's latest research and that gave rise to In excelsis homo series, designed specifically for the 2014 edition of the Philosophy Festival in Modena and exhibited from 13rd September at the Dark Room SilmarArtGallery of Carpi. To glory, Lagrotteria dedicated, as well as paintings, figures that "seem beings to which once was allotted a divine spark, a crumb of absolute, an impression of spirit that enabled them to "say no" to transcend the given reality"- a new experiment. Sculpture in the round made with durable and heavy materials – concrete, steel – with which he brings his faces in the third dimension and takes them away from the walls, placing them in open-air plazas, among people.