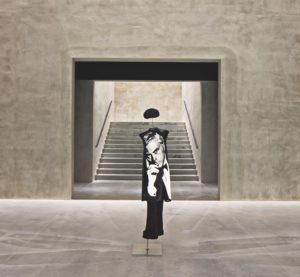 by Rossella Romito
The third law of motion states that for every action there is an equal and opposite reaction, just like the recoil of a gun that shoots a bullet. The same blast you perceive once you get on the top floor of Armani Silos. The light, main subject of this section, reflects on the clothing so precious to seem jewels and floods all that is around with the silent strength of stones and sequins.
This, dedicated to light, is the top floor of the exhibition space conceived and designed directly by Giorgio Armani located in a building dating back to 1950 used to store grain. After the renovation, now it houses a rational selection of collections of the designer: 600 dresses and 200 accessories from 1980 until today to offer visitors a vision of his world that many have called "greige" because of the great use of neutral colors.
The search for simplicity, the preference for regular geometric shapes and the desire for uniformity are also reflected at the same time in the sober and monumental architecture, that builds the rule of order and rigor. In contrast with contemporary architecture, Giorgio Armani has sought the rational form, the only one able to respond pragmatically to the functional requirements and the only one able to speak the same essential language. Only distinctive element is the ribbon window marking the perimeter of the building, almost like a crown that helps to define the compact mass.
Armani has revolutionized the way of dressing and thinking, triggering a change that 40 years ago was felt as necessary. The famous unstructured jacket, the fluidity of the fabrics, the rigor and the fine line between male and female created a modern seduction unprecedented and a new identity that still challenges the inevitable flow of time.
The exhibition runs for themes that have inspired and continue to inspire the creative work of Giorgio Armani. So, on the ground floor so you come to Daywear section, on the first Exoticisms, followed, on the second floor, by Chromatisms and finally the third floor is dedicated to the theme of light.
The passion for Matisse's color range, minimalist design that gives a nod to the Chinese porcelain and tailoring art, the floral and transparencies – in a harmonious synthesis – together tend to hide and reveal the body, the merger between stiffness of menswear and the softness of the female ones are crazy balls in a pinball visions that helped redesign a piece of history of international fashion.
Read more: www.armanisilos.com
Cover: Armani Silos, ngresso al piano terra con la sezione Daywear, foto Davide Lovatti