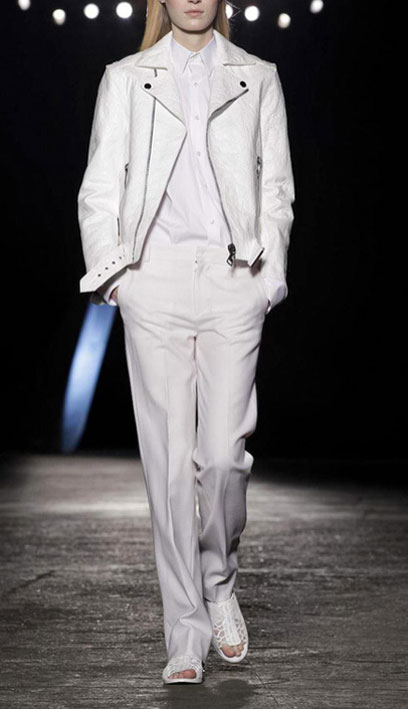 When spring is approaching and you are tired of wearing warm clothes, our thoughts fly straight to the must-haves of the season. Last year Pantone elected as color of the year Tangerine Tango, while in 2013 the emerald green predominates over all. But it is not only bright colors to dictate the rules of the new spring trends. We will be all pervaded by the two non-colors for excellence, black and white, which will always go around hand in hand.
The optical look of the carefree 60s was indeed the protagonist of the international catwalks of the Fashion Week for Spring-Summer 2013. The black&white is in fact a combination very easy to wear and mix, because is good to all, you only have to chose which pattern you prefer for the different occasions. In fact there is a wide choice of lines, also a "must" of the season, horizontal, vertical, wide, narrow, diagonal, etc…
But the lines are not the only chance to match bicolor. There are in fact many optical patterns or printed fantasy, chess or dots offered by various brands to express ourselves. All this without forgetting the most simple combinations: garments in solid colors for a much more minimal look. It is important that the mix we choose could have as a leitmotiv a visual effect.
Here are some examples seen on the catwalks. Balenciaga offers a skirt cut embossed in the elegant two-tone, which helps to sculpt the basic shapes of the figure. Among the accessories also offers a maxi trunk bag in vintage style that comes in many different versions, including black&white. Lanvin prefers a style mannishe opta for a deconstruction of the classic elegant tuxedo, where the white revers are in contrast to the black satin. Diesel Black Gold offers a glam rock woman and talks about her with a mix of two colors tending to be black&white, with the nail motorcycle in white as head symbol. Also Mami gives a lot of space to black&white, preferring plain, with some hints to bottle green, coral and diamond patterning.
Although for spring-summer 2013, the black was reintroduced and following the trend of the moment goes very well with white, do not forget a splash of color – perhaps in accessories – to remind us that spring has arrived.