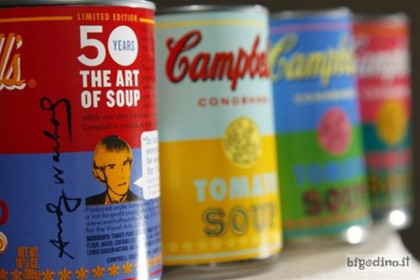 When you think of Andy Warhol you might think about his most famous works, such as the portrait of Marilyn Monroe, the one of Mao Zedong, or the famous Campbell cans, which became true contemporary icons. Fifty years have passed since the 32 paintings of Campbell's Soup Cans were exposed for the first time at the Ferus Gallery in Los Angeles, with an impact and a clamor that forever changed the history of art.
To celebrate the 50th anniversary, Campbell – the largest soups producer company in the world – has decided to release a limited edition of the famous condensed tomato soup that Warhol himself loved to eat. Those cans were part of the daily life of most Americans. They were in particular a special memory for Warhol, because his mother loved to fill the empty cans with flowers. The real novelty of this new special edition of cans are the labels made ​​in four different color combinations: blue and orange, teal and hot pink, and all the colors that the pop artist liked to use often. On the labels Warhol's famous quotes, such as "In the future everyone will be world-famous for 15 minutes.", and they all have a picture of the artist at the back. The soup cans are on sale only in the U.S. Target stores and they are available for 75 cents each.
This tribute to Andy Warhol is the result of an intense collaboration between the team of Campbell's Global Design and The Andy Warhol Foundation. With Andy Warhol, the cans left the shelves of super markets to land on the walls of museums and art exhibitions. Similarly Warhol, with his quotes and his image, has become a real Campbell's product. All of this reminds us of how our mind is often populated with icons that are part of our imagination and the way seeing them again will make us feel home. Have you ever wondered why sylists increasingly like to resume or revisit the icons of the past?
The contaminations between different areas – in this case art, design and industry – have pointed out, in the pop art times, that art can also come from everyday life and they remind us of how the real fashion icons do not become outdated after only one season, but they are always present because they are full of life.