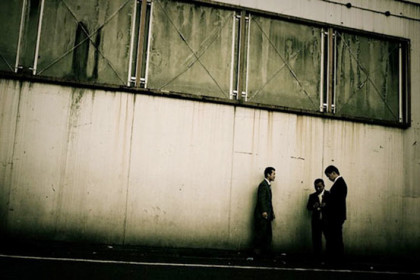 The photographic work of Anton Kusters is quite unique. It tells a story that very few people in the world have had and will have the opportunity to live and bear and witness from this close, its codes and atmosphere. The photographic work of Anton Kusters indeed, tells from the inside and with an almost intimate eye the life of one of the most important "families" of the Japanese yakuza. The Shinsiekai, the undisputed masters of the red light district of Kabukicho and its streets with its many nightclubs and gambling halls.
That is the Yakuza, as you can well imagine, a dark and inaccessible universe. Like all criminal organizations in the world, they commit hundreds of murders a year and thousands of crimes of intimidation and extortion, check gambling halls, brothels and night, so it is very easy to imagine that for the Belgian photographer was not particularly easy to get into the this.
As he says on his website, it took ten months of extensive negotiations: from the first contacts in 2008, until the permit granted to him in April 2009. For the next two years and several trips between Japan and Europe, mixing photography, video and words, Anton Kusters and his brother Malik have gradually shaped the 8-9-3_Yakuza project – the organization takes its name from lowest score you can get on the popular Japanese card game "Oicho-Kab" 8 (hachi), 9 (Kyuu), 3 (San) – Ha-Kyuu-Sa … – He slowly managed to get deeper and deeper into the folds of the Japanese organized crime and keep a diary of images of a world seemingly inaccessible but totally rooted in the Japanese society and culture.
Observing the work of the Belgian photographer is immediate reference to the imaginary film by Takeshi Kitano, even if the Japanese are substantial differences. Kitano is used to show the violent side of the yakuza, the physical and verbal type. Kusters instead uses a violence that is more silent, insidious, creeping, but also stylish and sharp as a katana.
Image after image, in a leaden atmosphere and with that cold lights that capture your attention, he follows and respects the characters, without ever invade their space, becoming a mute spectator, an invisible and transparent witness. It never interferes, does not interact, and the time passes slowly and slow is the descent to the bottom, always respecting the thin line between total control of the yakuza on the work of the photographer and his artistic integrity, always marking their own vision.
Is this the new way of photographic narration? Beyond the boundaries of photojournalism and expectations of photographic "art"?