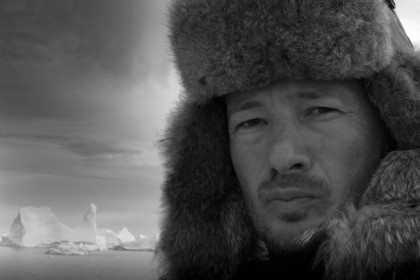 He lives in the Po valley, but more often is found around the world. Fabio Pasini finds it hard to sit still: he crossed the Hyperborean lands on skis, was the Italian champion canoer, he paddled in Europe, North and South America, on the sea of Cape Horn, Greenland, the Faroe Islands and in the Mediterranean. His passion for life is channeled by a thousand activities (including to be dad), among which he writes, photographs, films his experiences for personal reasons as well as for work. He published the DVD The passion of kayaking and two books, Norway: Lofoten ski & kayak (Geoantropo) and Lezioni di kayak (Mursia). A third book, about the Inuit, is waiting to be published.
Your first trip?
In Europe with my parents, I was eight years old, and while we were around traveling, Mao Tse Tung died: it is the first big trip I can remember, certainly it opened a road for me, as expeditions are started from small explorations close to home as a child, trips out of town, to the countryside, on the bank of the river…
Your expeditions have brought many friends?
I offer my friendship to others and often others are open with me, maybe due to the difficulties of communicating with a different language: when you are interested in understanding the problems are overcome, you "waste time" trying to explain and it triggers empathy.
Are there people you met on the road with whom you are connected after so many years?
Yes, the nicest thing is when they call me by cell phone from Greenland and speak to me in Inuit, I use at the best the twenty-seven words that I know, and I laugh a lot because it happens to me in many different places, like on the bus: I speak with these sounds and even the immigrants don't understand, they look at each other quizzically…
An Inuit word.
Uppa, it means "maybe" and summarizes the whole Inuit philosophy, it is the answer to many questions: tomorrow we go hunting? Uppa… tomorrow will be a nice day? Uppa… "very good" is mamakkaaju, "not good" is mamangkkaaju. Pilluarit is to honor or thank someone. The sounds are very sweet, they speak with an embarrassingly low tone because usually you are in windy conditions and you do not hear the words, so everything is accompanied with gestures, it is difficult with mobile phones but it is as if I can see them.
Your travels are thought out or born on impulse?
Many trips, especially the more complex expeditions, seen from the outside appear to be irrational but are instead very rational… the moment when the idea matures, the dream of travel, it is pure irrationality; however, I finalize things only when I feel rationally in place. I have encountered difficult situations in extreme places, but the mental preparation has always been very thorough and allowed me to overcome everything.