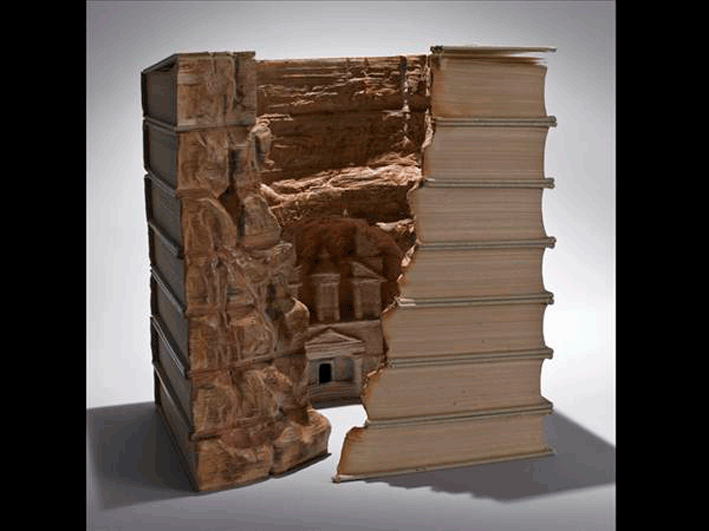 Guy Laramee is a Canadian artist who has been active for thirty years and has tried various creative paths: scenic writing, directing, contemporary music, design and construction of musical instruments, video, set design, sculpture, installations, painting and literature. He has received more than thirty fellowships and was awarded by the Canada Council for the Arts Joseph for his musical composition. His works are appreciated in the United States, Canada, Belgium, France, Germany, Switzerland, Japan and Latin America.
The eclectic artist has used old books to create original sculptures. Divided into the Biblos and the Great Wall series, his works are the result of a question: "What will be the future of books when electronic media supplant paper copies?" The book is also an object, made of malleable raw materials such as paper and cardboard, you can paint or paste the pages and the text settings and images can provide unbelievable visual aids. Guy chooses vintage books that have witnessed and transmitted knowledge for generations, that are almost obsolete or obsolescent and returns them to their returning them to their "granitc" essence by creating environments on which knowledge and civilization is rooted.
According to Laramee, knowledge is obtained by digging not accumulating; at the same time, erosion is the phenomenon that changes cultures over time until they are depleted. As he himself says:
«The erosion of cultures – and of "culture" as a whole – is the theme that runs through the last 25 years of my artistic practice. Cultures emerge, become obsolete, and are replaced by new ones. With the vanishing of cultures, some people are displaced and destroyed. We are currently told that the paper book is bound to die. The library, as a place, is finished. One might ask so what? Do we really believe that "new technologies" will change anything concerning our existential dilemma, our human condition? And even if we could change the content of all the books on earth, would this change anything in relation to the domination of analytical knowledge over intuitive knowledge? What is it in ourselves that insists on grabbing, on casting the flow of experience into concepts?»
Sculpting books, Guy Laramee writes visionary stories suspended from the past, present, and hypothetical future scenarios. Sculptures like rocky blocks, mighty structures inspired by nature, that seem to defy the menacing modern technology to tell the story of global movements. With these works, the manual ability returns to the foreground and allows every day objects to be changed into new shapes.
Laramee has a precursor, Brian Dettmer. The young American artist has set his work on recycling: cutting, pasting, hollowing and changing books to extract the essence.
Official website: www.guylaramee.com