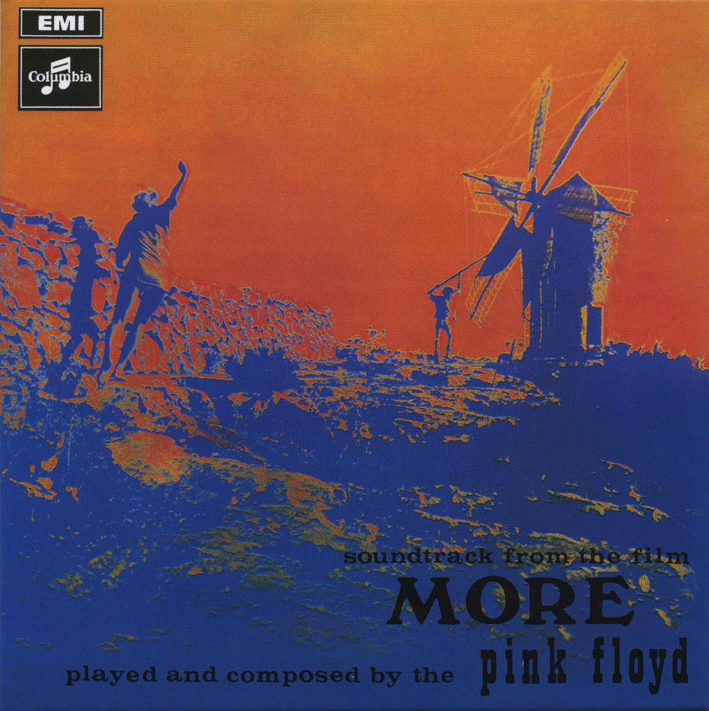 PINK FLOYD, Soundtrack  from the film MORE, EMI 1969
It's easy to say Pink Floyd. Everyone says they love them. Once at a market I met a guy who said he loved Pink Floyd and Pooh (!!!). Maybe he was a bit confused, but his eyes did light up when I mentioned Pink Floyd. He said that they were "sound engineers…" (SIC).
Poor, poor – extremely rich but poor – Pink Floyd. By now identified since the 1970s with the likes of "listen to how cool this effect is with my new speakers!" and "here you can hear a helicopter that with the headphones seems real!", etc, frequently forgetting that you actually had to do with excellent musicians, that in prehistoric rock times, they invented psychedelic rock together with another handful of insane geniuses like Soft Machine or the Grateful Dead from the other side of the globe.
Right, Pink Floyd wasn't just about helicopters, alarm clocks, dogs and other animals for the wonder of the naïve and dazed buyer, they were about being artists of music and creators of those atmospheres that hit directly into our deepest souls.  If Dark side, Wish you were here, Animals and other worse pieces allowed them to become more popular than the Beatles at a global level, who were more popular than Jesus Christ himself in a crescendo of cosmic popularity at fantametaphysical levels, there are songs that marked there greatness at a more modern and humanely artistic level. I have no problems listing them here: The piper at the gates of dawn with the extraterrestrial elf, Syd Barrett; A Saucerful of secrets with the appearance of Syd Barrett; More; and Ummagumma, the true masterpiece and one of the few albums that you can really define fundamental and primary.
But my choice, for reasons of pure revenge, falls on the ugly duckling of the aforementioned albums: in other words More. Why revenge? Because it is the typical album that the fake Pink Floyd fan is not familiar with and snubs its existence since it was placed on the market under the guise of belonging to the breed of soundtracks. An album, according to many, totally unessential.
BUT NO! More is one of the greatest works of all time of Waters's group and if you are not familiar with it or you don't appreciate it then you'd better forget about music and dedicate yourself to another hobby like mycology, deep-sea fishing or Queen. Schroeder's film which is voice-over, fortunately not very punctual and even less descriptive, is of relative interest. A story of drugs and death in Ibiza during the hippy era. The album is awesome and can do without the pictures. It begins with Cirrus minor, which bring to mind peaceful atmospheres like Grantchester meadows and continues with the great The Nile song…to then continue without sensible qualitative drops
Get a hold of it and listen to it. And remember, if you meet someone that says they love Pink Floyd, ask them if they're familiar with More. If the answer is no then put them on the right track.