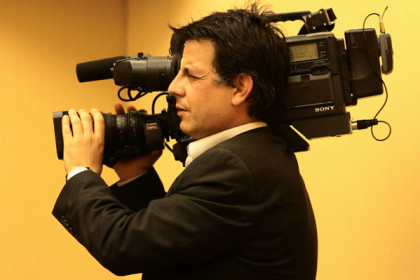 How does our knowledge of the world happen today? Always less direct but more international, it is filtered by the mass media who selects and re-packages news as consumer products to promote and sell it to as wide an audience as possible The information often becomes a form of entertainment teaching  fear and conflict, violence and excess: the catastrophe is as much a successful product in Hollywood as it is the news; the raw material, in a world full of wars and terrorist attacks designed to be well suited for television, is certainly not lacking.
In Turin, the Fondazione Sandretto Re Rebaudengo investigates this issue with Press Play. "Art and Information Tools" from February 2 to May 13, 2012. Organized by Irene Calderoni, this exhibition highlights the viewpoint of sixteen artists on the contemporary society of media, a world where reality seems to coincide with its representation: art becomes a critical tool, capable of analysing the social and political role of the images.
The Press Play artists appropriated the contents and the strategies used by the media subverting them to uncover their mechanism; objective and detached or inquisitive and participatory, they have used various methods: collection, archiving, displacement, falsification – and – absurdity, irony, hyperrealism, was recorded, taking advantage of the multiple daily faces offered by the newspapers or the screens.
Some examples: Bani Abidi  ironizes on the instrumentality of ethnical and cultural belonging with a video installation: two television journalists, an Indian and a Pakistani, reporting the same news viewed from opposite perspectives. The news is actually an adaptation of a famous joke about Indians and Pakistanis used to affirm the superiority of one group over the other.
The German, Thomas Demand instead places himself within the confines of what is real or artificial: in Studio (1997), the absence – of people, words, written in an suspended and silent image dominate, as if waiting for something to happen.
The work by Alessandro Quaranta is a result of his recent experience in Cairo, during a period marked by great tension and epic turning points for the Egyptian nations: the video offers a seemingly devoid of action image, an event out of sight that instead focuses attention on a group of people intent on recording it with their cell phones, creating an iconic image that moves the news from revolt to its methods of representation.
For Thomas Struth contemporary is characterized not only by the spectacular speed of today's methods of transportation but also by the virtual space continuously recreated from images of places where we've never been, and where perhaps we will never go. Times Square, New York, becomes an "infosphere" where the theme of information, advertising and the economy are the real stars.
Press Play is the first exhibition to have a soundtrack, created through the soundtrART contest, won by Chiara Luzzana with her Fragmento. Listen to it here
Fondazione Sandretto Re Rebaudengo | Via Modane 16 | Torino
Info: www.fsrr.org | info@fsrr.org