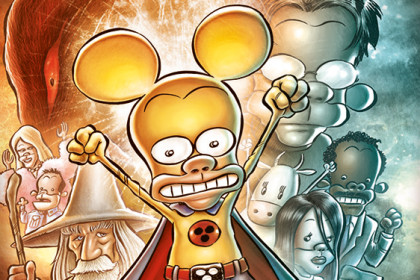 It was 1989 when Leo Ortolani created Rat-Man (Deboroh The Rock to his friends) as a parody of overseas superheroes. In 1997, the early stages of success, he had already decided that the saga of his super-nerdy in puppet style would have had a conclusion with the release of comic book no.100. But no: over the years, Leo got carried away by plots and subplots which he has pledged to renew the ranks, but sure he would not get to number 200.
Waiting to see how the Rat-saga ends, surrounded by hilarious parodies of blockbusters such as Avatar, The Lord of the Rings, Harry Potter and others, Parma celebrated no.100 with an exhibition and a Rat-Con(vention), both free of charge. The Rat-Con on Saturday, January 11th, broadcasted live in various Italian comics shops, has sold out at Auditorium Paganini: to entertain fans during about two hours of talk, considerations and gags there were the jazz musician Stefano Bollani, the publishing director of Panini Comics Marco M. Lupoi, the screenwriter Marcello Cavalli and the editor Andrea Plazzi.
To open the event was Master Bollani, who introduced Master Ortolani dressed like… Giuseppe Verdi. After some banter, Beppe/Leo took off his beard with the cry of war "Au! Au! Au!" eagered by the boys of fanclub". «I did not do anything special, I just did something that amused me», said Ortolani thanking the audience, yet with his fun he has captured the affection of thousands of readers, a tangible feeling in the afternoon in Auditorium Paganini.
Among the anticipations on Rat-future, the project to present to the next Lucca Comics the second part of the saga of Star Wars according to Rat-Man or Star Rats, and the release in March of a new monthly series "Rat-Man Giant" chronological collection along the lines of Marvel comics "Spider-Man giant" that will allow the new Rat-maniacs to read the first adventures of the rat man.
During the convention has been put up for sale, attached to no. 100, a small comic book in a limited edition, the unpublished cover, containing the storyboard of the first story of Rat-Man. A special postmark product for Rat-Con has allowed then to turn the books in special collectors' items, which the most patient were able to autograph at the end of the event.
Waiting for news, and to know how it will end the Rat-universe, until January 31, 2014, the Casa della Musica (House of Music) in Parma will host the exhibition "Rat -Man: 100 of these numbers!", Which exposes the hundred covers of the comic, the special books and gadgets.