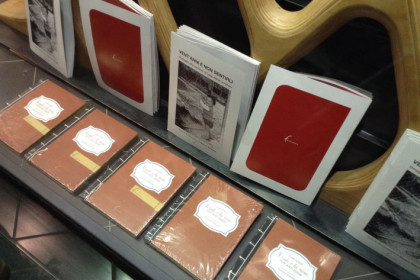 An animated Sunday, that 17th of November at the mall Euro Torri in Parma. Musical and other guests performed from 16.30 to 19 in the living room set up close to Mondadori bookshop to celebrate Luigi Alfieri's twenty years of writing career.
During the party was presented the "bookpaper" – as the name implies, a hybrid of book and newspaper, large format and cover in notepads style – published for the occasion by Fermoeditore, entitled "Vent'anni e non sentirli" (Twenty years and still rocking), tribute to Luigi Alfieri's career as a writer: a tribute to the author made up of excerpts, comments from friends and colleagues, distinguished awards, interspersed with drawings by Enrico Robusti for the book Sun and snow and photographs by Cinzia Munari, in a sort of catalog useful to learn more about the work of this versatile author. The book is dedicated to Gian Luigi, Fermo Tanzi's and his companion Cecilia Mistrali's newborn child, "hoping he can grow surrounded by books".
In the introduction, Alfieri describes his beginnings: "One day, twenty years ago or so, I walked into the civic library in Santa Maria street: I was looking for a popular book on the history of Parma. An agile and modern book, that told the daily life of Parmesan people over the centuries, the story of the economy, the weight of the city in Italy and in the world, its characters. It did not exist. I decided to do it myself". After that first historical-popular book, released in 1993 under the title Parma, la vita e gli amori (Parma, life and loves) the narrator has evolved up to the recent Sun and Snow, published in numbered edition by Fermoeditore.
Sunday afternoon, therefore, many friends and many onlookers were attracted by the notes of Pampa Pavesi at the piano, the accordion of Corrado Medioli, the charming voice of Livia Farnese accompanied to the piano by Franco Brugnoli, the sophistication of the duo Silentia Lunae, interspersed with talk and reading of passages: with the hope of finding themselves in the future to celebrate, who knows, a second twenty years.
The book Vent'anni e non sentirli ("Twenty years and still rocking") is on sale on the online shop on Fermoeditore website or at Mondadori bookshop in the mall Euro Torri in Parma.